Recently, Cisco confirmed rumors of the company's first tablet, the Cius. This Android-based tablet is geared towards business use and is expected to be released in early 2011.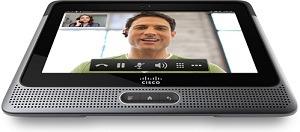 The 7-inch Cius works as any other tablet with Google's Android OS would, running apps that are built-in, as well as those downloaded from the Android Market. However, the Cius puts special emphasis on its videoconferencing features. The front-facing camera is capable of 720p video for HD video conferencing and the rear-facing camera takes 5-megapixel photos and 640X480 video. Videoconferencing with the Cius is expected to take place mostly over WiFi. However, 3G and later, 4G options, will be available.
Other features include:
1.6GHz Intel Atom processor
802.11b/g/n WiFi
Bluetooth (to connect a bluetooth headset for better audio when video conferencing)
3G/4G capabilities
HD audio and video out
8 hour battery
Integrated Firefox browser
Micro-USB port
Optional HD Audio Station (shown right) – Features additional USB ports, an Ethernet port, a telephone handset, and speakerphone
1.14 pounds
In addition to Cisco's business applications (WebEX, Quad, TelePresence, and more), Cisco is open to Android developers creating apps specifically for the Cius tablet. They will even provide a Cius-specific Software Development Kit and APIs.
Cisco has created an extension of their website devoted to the new Cius tablet, here. No pricing or precise release date has been given, though the Cius is expected to be available in early 2011.
Via PCWorld, Electronista
Advertisement