Dolby is working to improve the mobile computer audio experience. Dolby's partnered with HP, Sony, Lenovo and Toshiba to offer a step up in audio quality and features.
PC shoppers have so many features and options to consider that audio is often left out of the conversation completely. But if you want to get the most out of your music and video library you should at least take a listen  to your next notebook before buying it. There are some very real differences between notebooks' audio features these days and it's hard to appreciate them hearing them for yourself.
There are two grades of Dolby premium audio offered by PC manufacturers. Dolby Advanced Audio improves the quality of both speaker and headphone output. Dolby Home Theater is offered on more expensive entertainment notebooks and, as its name implies, is geared towards those that will plug their PCs into home theater systems.
Dolby's PC audio technologies are designed to solve several the audio problems found on most of notebook computers. Most movies and video games have several audio tracks that allow for a surround sound experience. In order to save bandwidth and storage space, audio you listen to on your PC is often compressed, stripping away the very high and very low tones. The biggest problem facing notebook users in terms of audio is that they're generally listening through the notebook's small speakers or headphones. The result is the audio is very flat audio that is far from what music, movie and video game producers intended you to hear.
In theaters (and home theaters) speakers are large and spaced as far apart as possible  to create a surround, or at least stereo, experience. This of course isn't possible with laptops since their speakers are generally tiny and spaced about a foot from each other. Notebooks carrying either the  Dolby Advanced Audio or Dolby Home Theater logo have a feature called Dolby Headphone, which is a virtual surround sound technology that tricks you ears into believing that you're listening to several speakers. When wearing headphones plugged into a Dolby Home Theater equipped laptop, listeners will be able to differentiate between sounds coming from in front of them and behind them.
In addition to creating a virtual surround environment, Dolby's managed to clean up the audio output on notebooks. On notebooks with either the Dolby Advanced Audio or Dolby Home Theater logo you'll find that the highs and lows typically stripped from music and movies are magically restored. Dolby's technology adds back the information lost when music and audio files are compressed into MP3 files or compact video files. Dolby's Natural Bass technology improves bass response by up to one octave, while its High Frequency Enhancer adds back instruments such as cymbals.
Those looking for the best audio experience should look for the Dolby Home Theater logo on notebooks. Like Dolby Advanced Audio, Dolby Home Theater offers Natural Bass, High Frequency Enhancer and Dolby Headphone. In addition, Dolby Home Theater allows users to connect their notebooks to their home theater systems with a single cable and to experience the best surround sound signal available on any given track, movie or game. Dolby Home Theater expands stereo or 5.1-channel audio to 6.1 or 7.1 surround sound in PCs that support 6.1- or 7.1-channel playback.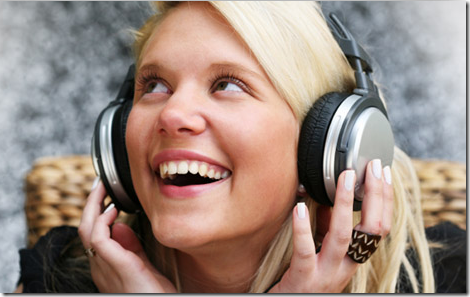 Some of the new laptops that Toshiba announced last week include Dolby's sound technology. They include the L600 series, the M645, the A665 and the P505. Also the Qosmio X505 has Dolby's audio technology built in as well. The new Toshiba notebooks will be available starting on June 20th. HP's new Pavilion lineup, including the dv6, feature Dolby Advanced Audio. The most affordable PC with Dolby's audio technology is the Lenovo IdeaPad S10-2. Sony's VAIO F series of notebooks are equipped with Dolby Home Theater. You can find more details about notebooks with Dolby technology here.
Below is a video from Dolby demonstrating its PC audio features.
If you're a music or audio enthusiast you should bring your favorite pair of headphones with you when you go notebook shopping. It'll be tough to judge the quality of audio in a crowded store. You don't need high-end headphones to appreciate the difference between the sound coming out of notebooks with and without Dolby technology.
Advertisement