Microsoft announced that Office Web Apps are now live on SkyDrive. Yesterday on the Windows Live Blog, Jason Moore wrote that Office Web Apps are no longer in preview mode. This means anyone with a Microsoft LIve account in the U.S., U.K., Canada, and Ireland can now use Microsoft's Office Web Apps immediately.
The Office Web Apps enable users to upload documents to Office.live.com. In addition, documents can be created from scratch from within a Web browser. Microsoft Word, Powerpoint, Excel, and OneNote documents can all be edited and created using Office Web Apps.
Once a document is uploaded or created, it appears in the Recent Documents section of Office.live.com, making it easy to find the documents that are currently being worked on. Clicking on  'edit' opens the document in your web browser and you can begin working on your documents without launching any additional software.
Office Web Apps allow users to co-author documents, which means multiple users can edit a document at the same time. This provides real-time collaboration, allowing all users to provide input. It also gets rid of the need to email multiple versions of the same document back and forth.
Office Web App documents can be viewed on smartphone browsers, such as the new iPhone 4's. This means you can use Office Web Apps without purchasing additional software.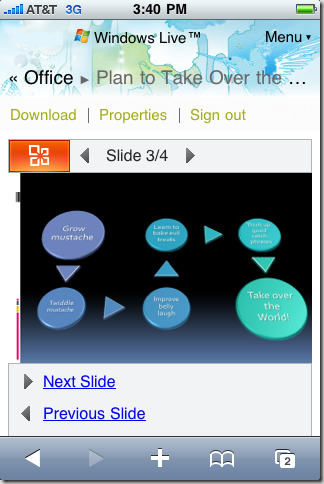 Office Web Apps was also meant to enrich the user's experience with Microsoft Office 2010. For instance, users can edit documents offline using Office 2010, and then finishing editing the same document using the Office Web Apps. This is a feature that is not yet available in alternatives such as Google Documents. Google Docs offers many of the same features as Office Web Apps. However, there are no offline applications comparable to Office 2010. Google's recent acquisition fo DocVerse shows that Google is serious about integrating Office 2010 with the cloud.
Office Web Apps offer a free way to compose documents, spreadsheets, and presentations, with the ability to edit from almost anywhere with almost any device.
Advertisement