iBooks is now available as a free download for the iPhone and iPod Touch. Geared for the iPhone 4 with its new Retina display, the pages are produced with vivid illustrations and sharp, easy to read text. It attempts to give users a sense of reading a real book, giving you the power to "grab" the bottom corner of the page and flip to the next page.
Here's a video of Steve Jobs introducing iBooks for iPhone and iPod Touch.
One really useful feature is that when you are done with your book for the day, it automatically bookmarks where you left off. Then, for those lucky enough to have an iPad as well, iBooks automatically updates the bookmark on the iPad as well. This makes it possible to pick up right where you left off, from either device. Your probably asking, "but don't I have to purchase the book twice to have it on both devices?" If you purchase a book on your iPhone, it will automatically sync with your iPad, free of charge.
The iBooks app allows iPhone, iPad and iPod Touch users to browse tens of thousands of books. On the iBook Store, you can also read reviews, see more details about the book, and even read a sample from it. Search is as seamless as it is on iTunes, though you won't find everything you're looking for. Some publishers have not signed distribution deals with Apple yet.  Once the book is purchased, it appears on your virtual bookshelf within the iBooks app. Another feature, which will be attractive to those in the business world, is the ability to view PDF files in iBooks.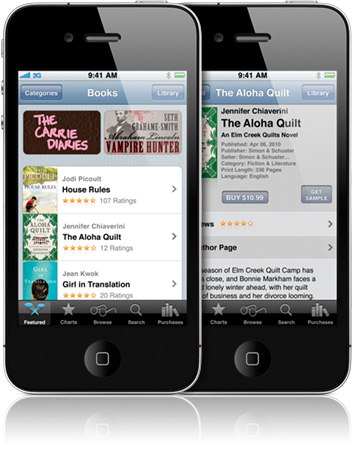 iBooks allows for some customization of the reading experience. The iBook app allows users to toggle between white and sepia paper, adjust the brightness and text size, as well as look up a specific words in the built-in dictionary and Wikipedia. Users can also search for specific words throughout the book, which can be really really useful for students. The iBook app has a feature called VoiceOver that can actually read the contents of any page out loud.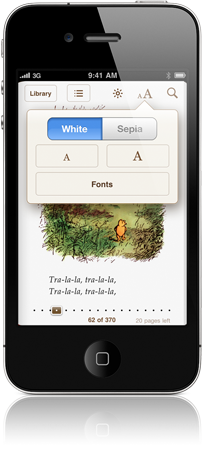 Advertisement