A traditional hard drive offers cheap capacity. A solid state drive offers speed. Like peanut butter and chocolate, two great technologies are even better together. Asus certainly thinks this combination is delicious together. They are including the Seagate Momentus XT Hybrid hard drive as an upgrade option in their Asus ROG G73Jh gaming notebooks.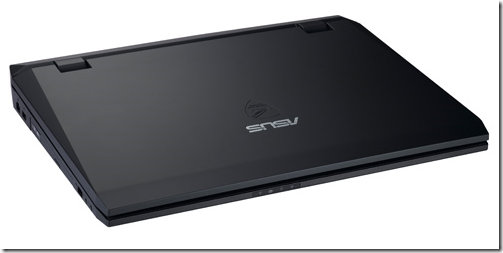 Republic of Games, or ROG, is Asus' line of gaming hardware. The ROG G73Jh is an attractive gaming machine that is designed to remind us of the F-117 stealth fighter.
The 500 GB Momentus XT hard drive from Seagate is intended to give users the capacity of the traditional 7,200 rpm hard drive with a 4 GB NAND memory and a 32 GB cache of DDR3 memory. With the hybrid technology the drive performs more like a speedy 10,000 rpm drive for only $113. According to Asus the addition of the drive results in a nearly 30% bump in PCMark Vantage benchmarking test. Other benchmarks were even higher, and boot up times will be reduced to only seconds. Below is a comparison chart from Seagate showing the performance difference between the new drive and other drives.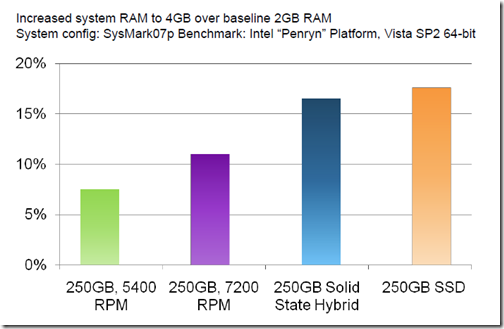 The hybrid hard drive is nothing new, but Seagate hopes that they have now found the right combination to make it not only faster but also a value. This time around they don't need the help of the OS. Windows Vista introduced a technology called ReadyDrive that was necessary to make it work in the past, but that is no longer necessary and now the hardware handles the SSD caching giving the system a performance boost.
Asus seems to think Seagate hit the mark this time by offering the drives. The new systems should be available via Amazon and Newegg. A quick search of both sites did not reveal the notebook as of this writing. But they should show up soon.
If you want to drop the hard drive in your own notebook computer, then you can find it at Amazon for under $140.
Advertisement