RunCore has a great solution for anyone with a spare Expresscard slot and a need for storage and USB 3.0 capabilities, the RunCore USB 3.0 Express SSD. This Expresscard 34 adapter includes a 64GB SSD and two USB 3.0 ports so that you can add extra storage and faster USB ports in the same package.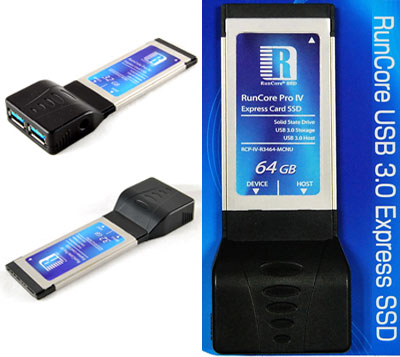 The 64GB SSD should be able to deliver sequential reads of 110MB/s and writes of 80MB/s, but according to Everything USB the USB 3.0 speeds will drop while the SSD is in use. It is also worth noting that there is a possibility that one of the USB 3.0 ports can be used to connect the adapter to another computer for access to the SSD.
No info on the availability or price of the RunCore USB 3.0 Express SSD.
Advertisement