After purchasing Palm earlier this month for a cool $1.2B, HP promised to double down" on WebOS. As many are expecting, the company will produce and release a WebOS tablet this year and it could come as early as this summer or very early fall.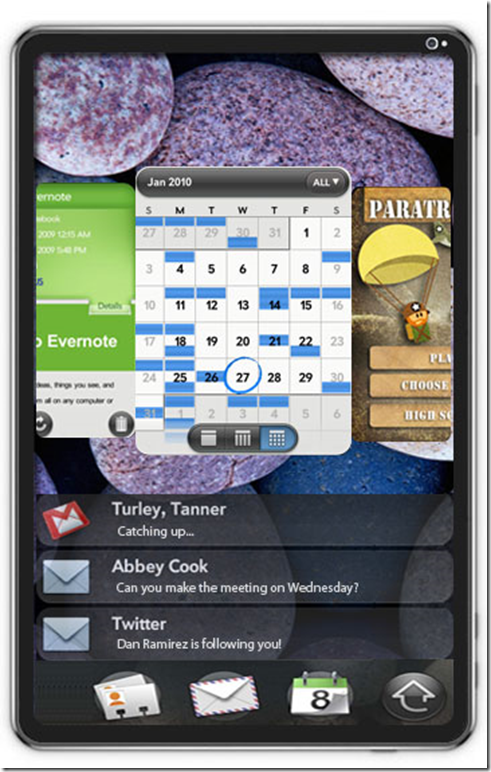 HP will announce more details after the completion of the Palm acquisition at the end of July. (Monty Wong, VP of personal computing systems group at HP Taiwan; quoted by Digitimes)
Wong also promised that the newly acquired OS will be on smartphones too but not netbooks. Netbooks are more like regular notebook computers is the rationale. So one would assume HP will not spurn Microsoft in that market.
Other devices HP is going to put WebOS on include printers. According to the company's Twitter feed HP CEO Mark Hurd said they would be loading the OS on web connected printers. What would you want WebOS on a printer for? Maybe it would allow printing over the Internet or as a new kind of Fax machine to both send and receive documents sent to the printer.
While this is not shocking to anyone, it is the closest thing we have to a confirmation, if you can believe the report.
It is hard to read this without remembering of Microsoft CEO Steve Ballmer showing off the HP tablet with Windows 7 running on it at CES earlier this year. Will HP have both a  Windows and WebOS version of this tablet? I think that is unlikely. So it looks like Microsoft is the odd corporation out. No more Windows 7 on an HP Tablet or Windows Phone 7 on HP handsets, if that was ever in the works.
Advertisement