I love my iPad. I couldn't imagine a day without my iPhone. My kids love their iPod Touches. We don't own a single Mac desktop or notebook, but I have friends who love their MacBooks.
Since getting my iPad one of the question often asked is How much did that cost?" I respond by quietly saying telling them the price of my 16 GB Wi-Fi Apple iPad, which I bought for $499 plus shipping. I suppose I could also add up all the apps I've purchased and throw in the value of the cases I've used to carry it around. But when I never think about is the intangible cost of my iPad, that is until I read the article at Gizmodo about a young man who went undercover in the Shenzhen Foxconn factory to learn about the pressures of assembling our gadgets.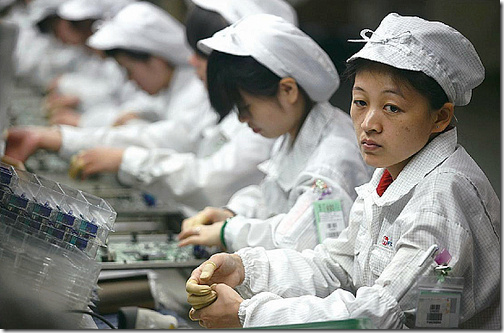 Liu Zhi Yi was placed in the factory, the primary manufacturer for Apple, by one of China's most progressive newspapers. Southern Weekly (site in Chinese). He spent 28 days inside the factory and learned about almost slave-like conditions. Workers spend long hours getting only brief breaks for food. The newspaper sent him in after six suicides were reported in only a few months. There have been 30 attempts and a total of 9 suicides now. The reporter said that he thinks that the people must have believed that killing themselves was their only outlet from the grind, according to Gizmodo's account. The workers are paid the equivalent of only $130 per month, meaning they cannot even afford to buy the gadgets they put together.
As an Apple customer, I like the fact that I was able to buy my iPad for only $499. But I don't like what I read in the Gizmodo article. It is time for Apple to do something about this. They are a wealthy company with $23.16 Billion on hand according to Yahoo finance. I believe it is time for Apple to spend some of that money to help these people, if indeed the reports are accurate.
Advertisement