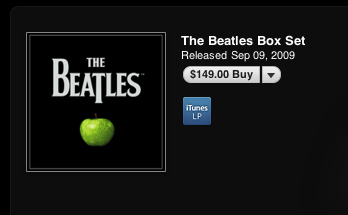 The Beatles are finally available on iTunes. After several years of waiting, Beatles fans can download individual songs and 13 complete albums. Serious fans can download The Beatles Box Set, which includes all 13 albums, music videos and documentaries. The Beatles Box Set includes 256 downloadable items in all. The Beatles Box Set costs $149.99.
The Beatles were a glaring omission from Apple's iTunes store, which is the United States' largest music reseller. Apple and The Beatles representatives have had several legal disputes over the Apple logos and trademarks, dating back to the very early days of Apple Computer Inc. The Beatles' albums featured a green Apple trademark.
Now that the two sides are working together, we can expect to see a major push for the Beatles digital albums and videos this holiday season. Apple teased the announcment at Apple.com yesterday and took the wraps off the partnership at 7a.m. PST. The company's Web site now directs visitors to explore the history of the Beatles and features a couple of videos.
Advertisement