OtterBox is best known for its rugged and waterproof cases, but the company also offers a commuter series of cases designed to offer protection for on-the-go users without the traditional bulk or weight of a waterproof design.  The Motorola Droid Commuter case from OtterBox is an example of this protective, yet usable in everyday settings, design.
OtterBox was nice enough to send over one of the new Droid Commuter Series cases for us to use for the past few weeks.  While you read this review keep in mind that I typically carry my droid without any protection on it and it is always in my front pocket, screen facing in.
The OtterBox Commuter case for the Motorola Droid offers 3 pieces of protection for $34.95. The first is a screen protector that installs with ease, it's actually one of the easiest I have ever put on and enjoy that you cannot tell by sight or touch that it is there. Second is a snap on cover for the top part of the phone that fits around the display. Finally, there is the back of the case which adds most of the protection.
With all of this protection you'd expect to add a lot of weight and bulk to the phone, but while I found both of these factors to be noticeable they weren't significant. Basically I could tell the case was on, but never found myself wishing I had left it off.
I really liked the rubber covers for power, volume and the camera button; which made all of them much easier to use as well as the plugs for the USB port and headphone jack. The case still allows access to the camera and speaker and is quickly removed to swap in a second battery or use with an accessory like the Motorola media dock.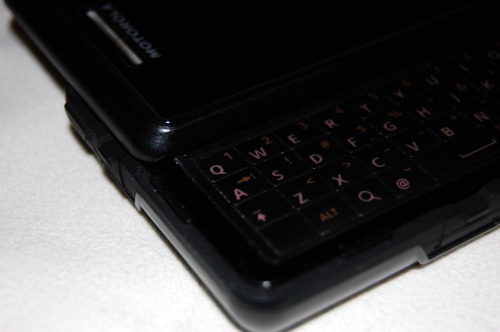 One downside is that you cannot clip the Droid into the Motorola car mount with the front cover on. Unlike the back of the case the front cover is harder, but not impossible, to remove which makes this a minor issue.
Conclusion:
The OtterBox is an excellent case option for Droid users who want protection without feeling like they are carrying around a brick in their pocket. The small touches, like the quick removable back and usable top row of keys, really make this case stand out. Hopefully a future model will allow the case to click into the Motorola car dock without removing the top case.
Pros:
Easy on and off
Works with multimedia dock for charging
Rubber covers make button finding easier
Cons:
Doesn't work with Motorola car dock
Occasional sqeak when typing fast on hard keyboard
Advertisement