If you're looking for a new notebook then today may be your lucky day. Bing and HP have teamed up to offer 25% CashBack on computers purchased from HP Home and Office and Newegg is offering numerous discounts on notebooks as well.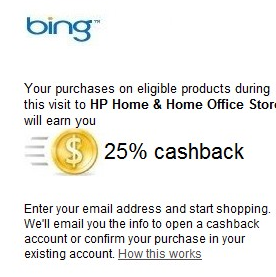 The Bing CashBack deal doesn't appear to have any restrictions so in theory you could purchase the HP ENVY 13 at the retail price of $1,449 and receive $360 in cash back in 60 days. If you prefer a cheaper notebook or a netbook then your final price for a baseline HP Mini 210 would by just over $200 and the stylish but affordable HP G62t, with Intel Core processors, starts around $450 after cash back.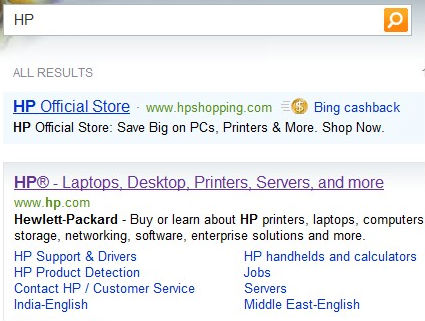 To use Bing CashBack and save 25% on your HP purchase follow these simple steps.
Go to Bing.com
Search for HP
Click on the golden $ coin icon in the Sponsored site box (Shown above)
Enter your email address in the popup prompt
Find your HP computer and purchase – Do not use a coupon code
Look for email confirmation and wait approximately 60 days for your Bing CashBack.
Using Bing CashBack with coupon codes, student discounts or employer discounts may cancel any cash back. If you choose to purchase a computer with Bing CashBack it is best not to try and stack savings. The deal is OK with Instant savings that HP offers.
Newegg is also offering several notebook discounts with promotion codes to newsletter subscribers. These deals include the following notebooks.
Lenovo G530 – Intel Pentium Dual-Core – $379.99
Acer Aspire AS5542G-5281 – AMD Turion II M500 – $549.99
HP Pavilion dv4-2167sb – Intel Core i3 – $679.99
ASUS G51JX-X1 – Intel Core i7 – $1,179.99
Check out the newsletter landing page for more information and promo codes. There are also discounts on notebook upgrades including Windows 7 Professional, Solid State Drives and more at Newegg.
Advertisement