If you are an NCAA Basketball fan, then March feels like Christmastime as you anticipate the big dance. The big dance is the NCAA Men's Division I basketball tournament. For the fans of the 64 schools in it this is what we have all been waiting for the crowning of this season's national champion.
Keeping Track of the Action Online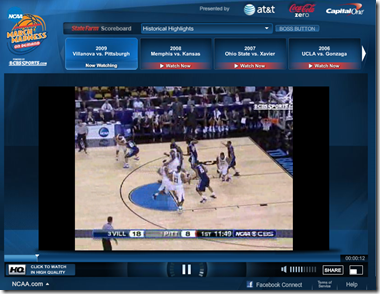 Busy basketball fans are not always able to sit in their man caves, in front of their HDTV sets. Fortunately there are a number of ways to keep track of the action online.
The official NCAA site for the 2010 Championship Tournament is a good starting spot. It has news, brackets, and links to sites where you can follow the action live. If you are a fan of a smaller division II or III school, there is information for you too. The CBS Sports Web site has news and information too. You can read about the games or watch video previews. After a game is over you can check the stats and view game highlights.
But the thing fans really want is to watch the games live, especially if your favorite team is not being shown in your market or you are not near a TV. For that, you will want to go to March Madness On Demand a partnership with the NCAA, CBS Sports and Westwood One Radio. You will get live streaming of the games, the radio broadcasts and game highlights.
The streaming quality of the archived games from last year were excellent. I tested it at a coffee shop with half-a-dozen others surfing the net at the same time. The coffee shop only has 802.11b Wi-Fi and still the quality was good. I then tested it using my Verizon Wireless MiFi broadband modem. There were no problems with it either. The only reason it might degrade is if the demand during live games stresses their servers. Don't be surprised if that happens, especially during the biggest games.
If you do not have access to a computer, but do have either an iPhone or an Android phone there are still options. The CBS Sports NCAA March Madness on Demand app in the Apple App Store will let you watch the games via live streaming whether you are on Edge, 3G or Wi-Fi. With the app you can watch the games, listen to the radio broadcast and get highlights. And if watching or listening is not appropriate for your environment, then you can keep track of games highlights with in-game updates. You can also fill out your brackets in the app. The app uses the same video feeds as the March Madness On Demand web site, so it should be adequate. However, in the App Store there are a lot of bad reviews saying that it could not keep up with demand at times last year. Again, don't be surprised it there are some freezing frames or dropped connections. The cost of the app is $9.99.
Bracketology
Part of the fun of the NCAA tournament is filling out your brackets. The official NCAA site has both an interactive bracket of the tournament or a PDF that you can download, print or send to a friend. Most sports web sites will have interactive or printable brackets as well. When putting together your brackets, you may want to enter a pool. CBS Sports has the online Bracket Manager as well as a game with prizes called Bracket Challenge and another one called Round by Round Brackets where you update your brackets after each round. ESPN's bracket game is called Tournament Challenge. They have the online site and an app in the Apple App Store. If you do a Google search for NCAA brackets you will find dozens of interactive online tools or printable brackets that you can fill in the old fashioned way. There are a lot of free and paid competitions as well. Or you could just use this bracket (click to download PDF):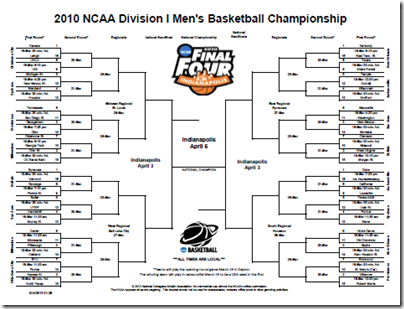 Some people don't want to just enter an anonymous contest; they would rather set up a pool for their family, friends or office. Yahoo's Fantasy Sports site is one of the most popular. Most of us have a Yahoo account already. So it might be the best option. With their site you can create your own group and invite friends to participate or you can join one that is already set up. Go the the site and click the 'Create Group' button to start a pool for those you know. Follow the instructions and you are ready to compete with your friends or coworkers. You will have to invite them via email, Facebook, or Twitter. If you want to join the group that I set up for readers of Notebooks.com, then go the group page and click Join This Group."
Another option is filling out your brackets on your mobile phone. There are a number of apps for the iPhone. The one from CBS Sports has this feautre built in. If you don't want to spend ten bucks, get the lite version for free. It doesn't have any broadcasts of games, but does have brackets, scores, and stats. A better app is PocketBracket. With it you can sign up for an account from within the app and then create as many brackets as you want. These can be submitted to the online pool so you can compete with others. Or just make enough for your family and have your own competition. You can get it for only $.99 and I think it is worth it. It is also available in the Android Marketplace. Below is a video that demonstrates it on the iPhone.
Advertisement