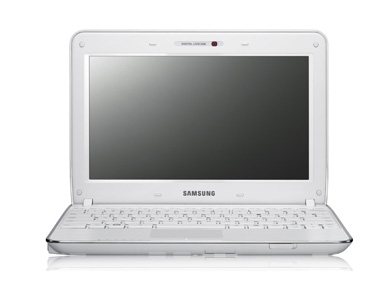 In continuation partnership of Samsung and Best Buy, Samsung made their two new models available to Best Buy; the N210 Netbook and R80 series Notebooks.
As per BusinessWire, both of these models will be available on Best Buy from March 7. Samsung's director of product marketing Todd Boumman said that Best Buy continues to be an important retail partner for Samsung, and we're excited to offer a range of notebook and netbook options to our customers that deliver exceptional craftsmanship and performance" He also added that True to Samsung's unique, customer-focused design aesthetic, these mobile PCs are flexible enough to be used as mobile devices or desktop replacements for all-day use".
The Samsung N210 Netbook will be available on $329.99 at Best Buy. Samsung's N210 Netbook comes with Intel Atom N450 processor, Windows 7 starter edition, 1 GB DDR2 memory. Samsung's N210 netbook is stylish, user friendly and comes with scratch-resistant, polished pearl design, non-glare display and weight just around 2.8 lbs.
Samsung's N210 Netbook Configuration:
• Intel atom N450 Processor
• Windows 7 starter edition operating system
• 1 GB DDR2 memory
• 10.1 inch WSVGA display with 1024×600 resolution
• Intel GMA 3150 graphics card
• Inbuilt 0.3 MP webcam with built-in microphone
• In built 3 W Stereo speakers (2×1.5W)
• Hard Drive 250 GB 5400 RPM
• 802.11 b/g/n wireless
• 2.82 lbs.
To see full configuration of Samsung's N210 please visit Samsung's N210 product specification page.
Advertisement