Microsoft has announced the Release candidate availability of System Center Essentials to public. This is first release candidate of System Center Essential and represents a nearly final product.
Microsoft Essentials 2010 is designed for an IT professional in mid-size organizations to effectively and proactively manage their IT environment with increased efficiency from a single console.
Microsoft System Center Essential allows the monitoring and alert resolution of server and client computers, application, hardware and network devices. You can manage up to 500 client computers and 30 servers with System Center Essentials.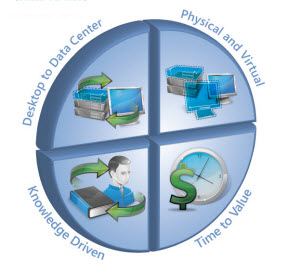 Microsoft System Center Essentials provides the following functionality:
Delivers single console monitoring and management with summary information, common tasks, alerts and reports, allowing you to quickly see and manage your IT environment.
Provides rapid provisioning, importation, management and live migration of virtual servers.
Simplifies complex management tasks like packaging and deploying software, and configuring Microsoft and third-party updates.
Helps quickly solve problems using integrated alerting, expert knowledge and troubleshooting for servers, PCs and IT services running in your IT environment.
Adaptive Application Delivery
Simplified Windows Vista Deployment
End-Point Security Management
Configuration Compliance
Client Infrastructure Monitoring
Remote PC Diagnostic and Repair
To learn more about Microsoft System Center Essentials please visit Microsoft System center essential page or to download please visit Microsoft download page.
Please note the in order to run the Microsoft System Center essentials you should have Windows Server 2003; Windows Server 2003 R2 (32-Bit x86); Windows Server 2003 R2 x64 editions; Windows Server 2008; Windows Server 2008 R2 operating system installed , 2.8 GHz or faster processor, 4 GB RAM, 20GB of available hard disk space.
Advertisement