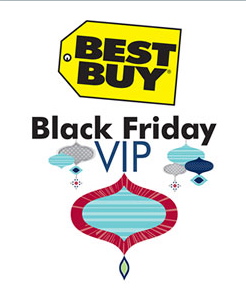 Best Buy is holding a contest that should make Black Friday aficionados salivate. Winners of the Black Friday Contest will get a limo ride to one of the 25 participating Best Buys, be able to start shopping before the doors open for the rest of the Black Friday shoppers and spend a $1,000 Best Buy gift card.
Each Best Buy Black Friday VIP will be able to bring up to three guests and will be able to purchase up to four Black Friday doorbuster specials. Last year Best Buy had notebooks for as low as $229 on Black Friday.
You'll need to live in the vicinity of one of the 25 participating Best Buy stores, which just happen to be in the top 25 DMA's or Designated Marketing Areas (marketing speak for the 25 biggest metro areas in the U.S.
To enter the contest you just need to head over to www.askablueshirt.com and "share how Black Friday shopping is an important holiday tradition for them and their family, and what kinds of rituals they have to make the morning after Thanksgiving an enjoyable kick off to the holiday season."
With the current downturn in the economy I expect retailers to discount notebooks even more heavily than in past years. I also expect more people to put more effort into actually getting the best Black Friday notebooks. There will be more people camping out in freezing parking lots, scrambling for doorbuster vouchers and unfortunately scamming their ways to the front of the line.
Last year's Black Friday notebook prices were great deals at the time, but with notebook prices dropping so fast retailers like Best Buy will have to do a lot more than sell entry-level notebooks for $400 to draw crowds. I wouldn't be surprised to see Best Buy or another retailer to sell a $99 notebook this year. It will take that much of  a discount to stand apart from the numerous notebook manufacturers and retailers vying for some end-of-year dollars.
Here's a list of last year's Black Friday Laptops/Notebooks.
Before you get too excited about these and other Black Friday notebooks, please read this recent Notebooks.com article:
Black Friday: 15 Tips for Buying a Black Friday Notebook (or Not Buying One)
For more Black Friday Notebook deals, visit the Notebooks.com Black Friday page.
Advertisement