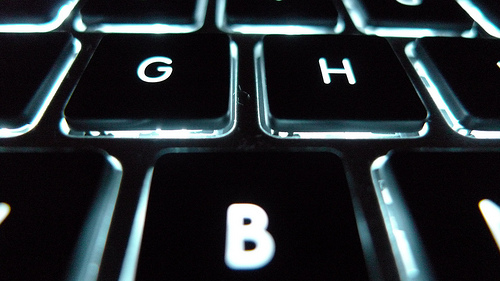 With the increased mobility of notebooks and netbooks and better battery performance of new Intel processors I was expecting to see more notebooks, and yes even netbooks, at CES available with backlit keyboards.
A feature typically reserved for Macbook Pro's and High end notebooks backlit keyboards are a must have for anyone working in a dimly lit environment. Which, thanks to the new portable nature of today's notebooks and the always on connectivity options like Wi-Fi covered campuses or the MiFi personal hotspot devices,  are all around us.
Yet, despite the excellent application for travelers, students and businesspeople backlit keyboards; even the option to pay a premium for the sweet sweet ability to type in the dark, are as elusive as the boogeyman himself.
Yes. There are more devices than a year ago with the Sony Vaio F series offering backlit option and the Toshiba E205 as well; but many great looking notebooks and netbooks that would otherwise fit my purchasing criteria are relegated to second place because they lack a simple backlit keyboard.
Am I really the only one who hates fliping the screen down so I can see the keys and back up to read what I typed, repeating until a post or email is finished?
Image via Remko van Dokkum
Advertisement