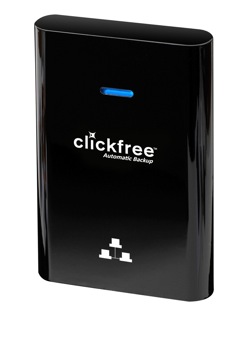 At CES today, Clickfree announced a new automatic backup solution aimed at helping consumers and small businesses backup their important documents without any tricky setup to deal with. The new C2N series of backup options from Clickfree make use of their  "BackupLink"  technology that can back up multiple computers on the same network with only one device and no setup. The backup options work on both Windows PCs and Macs.
To use the new C2N device on several computers, just plug it into each computer and leave it plugged into one computer at all times and it will automatically back up your important documents. According to the company there's no setup required; just plug the Clickfree device into your computer and your good to go.
The flagship product launched today, available in February, is the C2N series backup solution. This device works on multiple computers and hooks up via USB for a fully automated backup solution.
The C2N series comes in the following sizes and a bring your own drive solution that lets you plug in an existing external hard drive.
250GB ($159.99)
320GB ($179.99)
500GB ($199.99)
640GB ($219.99)
The Transformer Network Edition will retail for $99.99
Also announced today were two backup options for on the go individuals.
First, there is the Traveler for Blackberry. This device is a 16GB or 32GB MicroSD card that you use in your Blackberry and, every time you connect to your PC via USB, your computer will be backed up to your phone. The Traveler for Blackberry will be available in February for $89.99 and $149.99 respectively.

Additionally Clickfree is launching the Traveler SD, a 16 or 32 GB SD card that plugs into the SD card on most notebooks and uses the same software to automatically backup your important files. Like the other options you can backup multiple computers to one card and like the Blackberry traveler this SD card is encrypted for additional protection. The Traveler SD will be available in February and retail at $89.99 and $149.99 as well.
Advertisement