Losing your laptop has the potential to ruin your personal identity. If you're the kind of person who stores your banking information, passwords, tax returns and other sensitive material on your personal laptop you could be in serious trouble if it's ever lost or stolen. These days laptops have become an integral part of our lives and we should take precautionary steps well in advance in order to increase our chances of recovering a missing laptop.
Fortunately, there are applications that can help people recover lost laptops by tracking and reporting their locations. There are lot of paid versions available in market like Laptopcop Software and Computrace, but there are free version also available that most people are not aware of.
Adeona:  Adeona is my favorite free application for tracking a lost laptop. This software can track the location of your lost or stolen notebook. This reliable, open source and free software is very easy and simple to install and use. One good thing about this software is that you don't need to install anything other than this software, just install Adeona and you are good to go.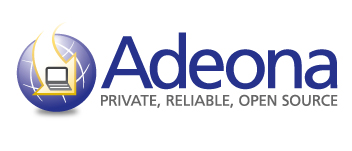 The one feature which I like most on Adeona is that it uses cryptographic mechanisms to keep the laptops' location history private. Adeona can display a warning message to a thief so he's more likely to drop ditch it.  Adeona works with Windows, Mac OS X and Linux. The Mac version can take pictures of a thief, which could aid police in making an arrest. Please visit Adeona site to download the application.
LaptopLock:  Another free tool to recover your stolen notebook / laptop is LaptopLock. After installing this software you have to register your laptop/ software with their site which is free. You can pre-program the application to take specific action in case it's stolen.
If you laptop is stolen then you have to login to site with your account and mark that your laptop is stolen. As soon your stolen laptop connects to the Internet the pre-programmed action will occur and you will find out where your laptop is located.
Like other free laptop recovery applications, LaptopLock also provides the option to delete the files remotely, encrypt files, show a message to the user and play alerts. This application works only with Windows.
Prey:   Prey is another free alternative application to recover your laptop. It works under all operating system not only for windows. Prey will let you to locate your lost laptop by sending reports to your email id or Prey web control panel. This reports include lot of information like WiFi information, a picture of the thief (only if your laptop has in built webcam),a  list of running programs, screen shot of the running desktop, network information and more.
Prey is a very lightweight application and takes only small amount of memory. This application sits on background and doesn't run until you remotely activate it through the Prey Web control panel.
LocateMyLaptop: LocateMyLaptop will help to track, locate and recover the stolen notebook /laptop. LocateMyLaptop is free for individual use. This software is also very easy to install and use. You need to just install the application and you are good to go. Whenever it connects the internet you can start looking the location of your laptop in map. Like another tool this software also offer deleting your data from computer remotely.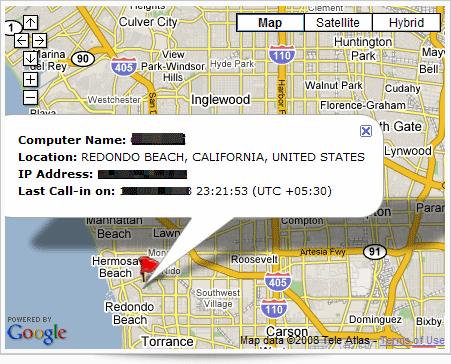 This software works on all Windows, OSX and Linux operating systems.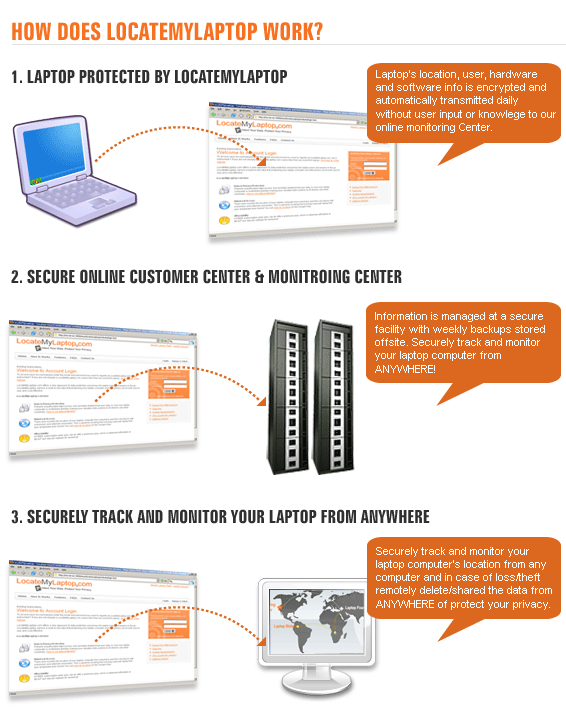 LocatePC:  LocatePC is another powerful laptop tracking software which will help you to recover your lost or stolen laptop. As soon as you connect to Internet this application will send you an email with vital information that can help you to recover the laptop. This applications also runs on background. This application will send the vital information as mail only when you have a POP email account for LocatePc to send email.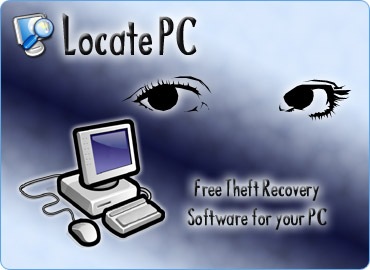 Please also note that these softwares are not 100% full proof and if laptop's thief format hard drive then this software won't work. So apart from installing this software you should also consider to encrypt the hard drive to protect your personal data. Its is also recommend that you do not try to recover your laptop on your own if its stolen. You can bring the information gathered by the security applications to your local police department.
Advertisement