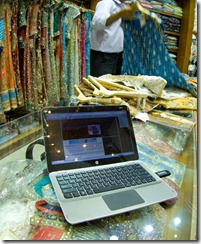 Fellow Notebooks.com blogger Xavier is on a trip to India, one I am very jealous of, to celebrate his brother-in-law's wedding and he is documenting how he is staying connected and working while in Mumbai. Xavier's main rig on the trip is an HP Envy 13″ notebook, which the more I hear about, the more I want one.
For the most part he is sharing the experience through posts at GottaBeMobile with reports on airplane seats made for geeks and how he uses the HP Envy 13 to get work done and even play Call of Duty Modern Warfare 2 while out on a wedding shopping excursion.
Xavier, an avid photographer, has also been taking plenty of photos during his trip and recently shared many of them in a 5 minute music video which he created on the HP Envy in just 15 minutes using Muvee. You can watch "My time in Mumbai So Far" on Facebook and personally I'm blown away that you can create a music video like that with photos in 15 minutes. It blows a traditional slideshow out of the water!
If you want a chance to win your own HP Envy 13″ Notebook they are giving one away at the Wheel of Questions.
Here's Xavier reporting from the street, literally, and you can hear a bit more about his trip and the technology he has with him.
Advertisement