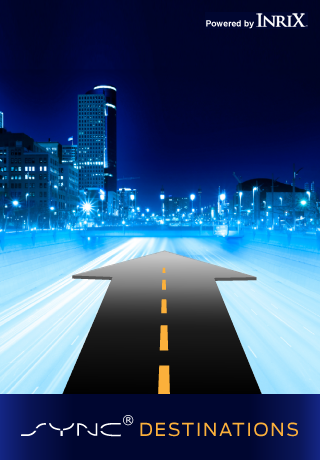 Hot on the heels of announcing an update to the Ford Sync system that will allow users to control smartphone apps with their voice, Ford has announced the Ford Sync Destinations app for iPhone, iPad and Android users, with BlackBerry support coming in the near future.
The Sync Destinations App allows SYNC users who have SYNC TDI (Traffic, Destinations and Information) to call up destinations and information that they can upload to the SYNC system for use when they hit the road.
"SYNC Destinations leverages the power of your smartphone to manage a user's SYNC Services account and to plan ahead, sending destination locations to your car, and knowing what's happening on the road ahead of you before you even get behind the wheel," said Dave Gersabeck, SYNC TDI product manager in a release announcing the app.
The app is free to users and in addition to making pre-trip planning easier by allowing users to find and share locations to the SYNC system the SYNC Destinations app will also deliver a recommended departure time based on traffic estimates. You also get traffic data to be alerted to construction, road blocks and heavy traffic from special events to help you get where you're going faster.
The app has a built in 5mph lockout feature which disables it while the driver is in the car to keep focus on the road. While moving the driver can use the SYNC system to get information and directions while keeping his or her eyes on the road.
We took a look at Ford SYNC this summer and were pretty impressed with the ease of use and ease of interaction with multiple devices. The addition of being able to control apps like Pandora and to work on trip destinations before getting behind the wheel continue to make the SYNC product a very interesting offering and one we recommend checking out when you look for a new car.
We will be checking out the Ford SYNC system in more detail at CES 2011 in early January.
Gallery of the Destinations App:
Advertisement