This Saturday we're hosting a shootout with the San Francisco Photography Meetup Group. Whoever takes the best shot on Saturday will win an HP Envy 15!
Meet us at Dolores Park in San Francisco at 4pm Saturday at Dolores Park.
We're going to have some demos of how to shoot take great action photos at dusk. We're going to have a local performance artist to shoot in addition to the beautiful San Francisco skyline.
(photo by Pip R. Lagenta)
After the shoot is over, we're going to walk to Medjools for a photo-geek party. Everyone will get to import their best photo from the night onto one of the HP Envy notebooks we'll have on display. The group will vote for their favorite photos and we'll hand out tons of prizes. Heavy appetizers will be provided.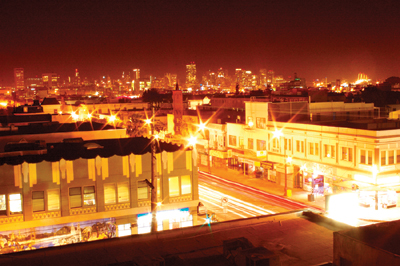 We have some great prizes to give away. If you want to win a prize you'll have to show the group your best shot from the night. Prizes include:
• One HP Envy 15- 1050NR: The HP Envy 15 is a luxurious notebook designed for creative professionals. The Envy 15 we're giving away comes with a high-def display (1920 x 1080), 6GB of RAM, an Intel Core i7 processor, ATI Radeon 4830 Graphics w/1GB of memory and two batteries. This model retails for $1,999 at Best Buy.
• $1,000 of Gift Cards: Win one of ten $100 Best Buy gift cards. Buy yourself a gadget or give it to a loved one for Christmas.
• SanDisk Extreme Compact Flash Cards: Win one of three professional-grade 8GB SanDisk Extreme Compact Flash cards. These cards can read/write up to 60MB/s (400x). These cards have an MSRP of $145.99.
• Gift Certificates for BorrowLenses.com: Win one of two $50 gift certificates for BorrowLenses.com This service lets photographers rent lenses, cameras and more by mail. If you live in the Bay Area you can pick up the gear in person in San Francisco or San Jose.
Thanks to all of the companies for donating the giveaway gear. Special thanks to HP and Intel for sponsoring this event and donating the HP Envy 15.
To register for the event visit the San Francisco Photography Meetup Group event page and join the group.
We hope to see you there!
Advertisement