Many years ago computing was very stationary in the sense that you were often tied to your computer at work or home. Over the years, with the increase in network connectivity, users were able to embrace technologies such as Remote Access giving them the ability to access PC's and Server's remotely, anywhere, anytime. Although Remote Access became a reality there were still some problem's that persisted: ease of use and user experience. Then came along Remote Desktop software, which also faced its own level of complexity in the early days. Microsoft's early Remote Access Technologies were based on its stand alone Windows NT Terminal Server OS which was later incorporated into the Windows 2000 Server family of network operating systems as Terminal Services and later versions. With the release of Windows XP, Professional edition in particular, Microsoft built in the Remote Desktop Client.
Remote Desktop is the ability to have Remote Control. You are able to navigate your home PC for example from any Internet enabled machine. Other advantages include the ability to quickly check your email, travel and access work from your office PC. Remote Control software is not just limited to business users though, for telecommuter's, having access to an office PC at home is a major incentive, IT Professionals can use it to manage and access employee computers over a local network. Remote Desktop is also a great tool for Help Desk staff, since they are able to directly access an employee's PC by taking control of the computer and fix problems while also demonstrating to users what to do.
In this article, we are gonna take a look at setting up Remote Desktop in Windows 7 and talk about some of the new capabilities offered in this release. In version 7, the Windows Team is making Remote Desktop more multimedia aware with support for real-time multimedia applications, video playback and 3D games. With version 7, some of the rendering Task have been split between the Server and Client depending on the type of setup and environment you are using Remote Desktop in. The Windows Team most recently made some changes for the RTM release, the current Release Candidate does not reflect any of these changes:
Server-side / host-side rendered:
WPF
Silverlight
Flash
DirectX (all versions)
Direct2D
Client-side rendered:
Remote GDI
Aero Glass experience
Windows Media Player content
In the Release Candidate, this is what you will have access to:
Server-side / host-side rendered:
WPF
Silverlight
Flash
DirectX content prior to 10.1
Client-side rendered:
Remote GDI
DirectX 10.1/DXGI 1.1
Direct2D
Aero Glass experience
Windows Media Player content
Before you start connecting to another PC Remotely, there a few things you need to configure. Lets start by enabling 'Remote Desktop' on the machine we need to connect to. Click Start > type: 'View Advanced'


Hit Enter
When the 'System Properties' dialog appears, select the 'Remote' tab, under Remote Desktop options, select: 'Allow connections from computers running any version of Remote Desktop (less secure). This guarantees that you can connect to a Windows 7 Remote Desktop session from previous versions of Remote Desktop Connection.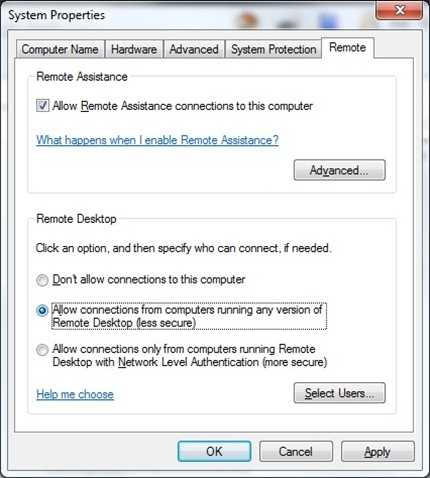 If you choose to select the option with Network Level Authentication, it means you are aware that the other computer is also running Windows 7. Network Level Authentication is an authentication method that completes user authentication before you establish a full Remote Desktop connection and the logon screen appears. This can help protect the remote computer from hackers and malicious software.
After setting up Remote Desktop, the next step is to connect to the Remote Machine. Click Start, Type: Remote


Hit Enter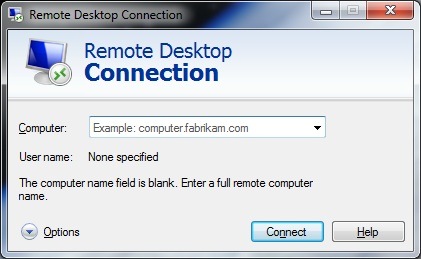 Connection options for Remote Desktop
The Remote Desktop client is made up of various options that can determine your experience when connecting to the remote machine. If you don't see these, click the Options button in the lower left hand corner of the Remote Desktop Connection window. If you are interested in replicating an exact experience as that is available on the remote computer you can do so by enabling all the options under Experience (tab) > Performance. You should do this though depending on your connection speed, if you are connecting over a local area network, you should be fine, if its over dial up, you should uncheck all but Bitmap caching, by default, if you select your connection speed in the list box, Remote Desktop will apply the appropriate settings for you.
Making the Connection
Ready to connect to that machine? Here's how: go to the General tab, Enter the remote computer's IP address or PC name along with the user name. Note: If you don't know the machine name, check the remote PC's System Properties under 'Computer name, domain, and workgroup settings.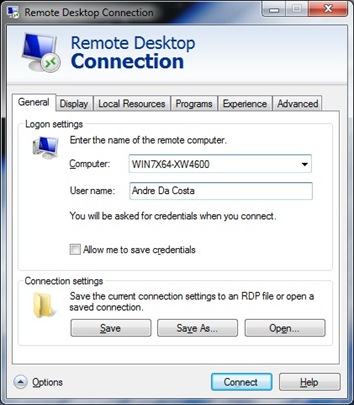 click Connect

Initiating the Connection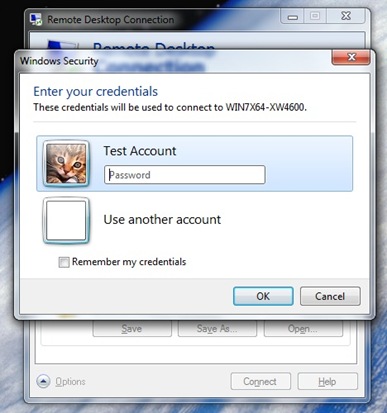 Here you are asked for your password, you can choose to connect using another account.
Remote Desktop in progress
As you can see, Remote Desktop is in progress, I have full Aero Glass experience just like what I have in Host operating system. In full-screen view, the hosted desktop automatically resizes to my local resolutions if I want; providing an experience that is identical to the host computer. Peripheral devices such as the host keyboard, mouse along commands are available along with devices such as printers, drives and serial ports. When you are done with your Remote Desktop session, simply click Start, click the Power Options button and click Disconnect. Note that when you access a Remote PC, that account will be locked while its in use. Remote Desktop Connection is a powerful feature in Windows, you have more flexibility when it comes to troubleshooting. Living in a world of Internet ubiquity (not to mention wireless Internet) and mobility, RDC gives users the freedom to work and play anywhere and anytime they want. You don't have to be tied to your PC anymore.
Problems that can prevent an unsuccessful connection:
Check to make sure that Remote Desktop Connection is enabled on the Remote PC you are attempting Connect to.

Make sure the PC is not set to sleep, you can configure this in the Power Options Control Panel item.

Ensure that Windows Firewall > Allowed Programs Remote Desktop is allowed to Communicate.

The edition of Windows 7 you are attempting to access does not support Remote Desktop. Remote Desktop is only available in Windows 7 Professional, Enterprise and Ultimate. You can however you can access any of the aforementioned editions once you have the Remote Desktop Connection client installed.
Resources
Microsoft makes a post-RC change for RDP7: no more client-rendered DirectX
Changes to Remoting Model in RDP 7
Related
Quick Look: Windows 7 in the workplace – Joining a Domain
A Quick Look at Windows Live Sync
Remote Assistance in Windows 7: Lending a helping Hand is even easier
Advertisement