tOver 8 million people tested Windows 7 when it was in development and I am sure many of you are still running the Windows 7 Release Candidate which expires in March 2010. You might have been running the RC in a production setup because of how stable and impressive the software is, especially for a pre-release product. At the same time, you are contemplating, how do I move to the final version of the software with my accumulated data on it? Can I simply do an in place upgrade from the RC to the final release? What about all my installed applications?
These are all good questions and its something I was curious about myself and decided to document. The first thing you should understand as a tester of pre-release software, means its pre-release and Microsoft is in no way responsible for anything that can happen running the software in a production environment. Yes, the software is very stable, especially since the first beta released back in January, but there are a few things users must know before deploying it and what happens when the software is going to expire. Here is a bit of information from Microsoft about the Windows 7 Upgrade path policies:
Upgrades to Windows 7 from the following operating systems are not supported:
Windows 95, Windows 98, Windows Millennium Edition, Windows XP, Windows Vista® RTM, Windows Vista Starter, Windows 7 M3, Windows 7 Beta, Windows 7 RC, or Windows 7 IDS
Windows NT® Server 4.0, Windows 2000 Server, Windows Server® 2003, Windows Server 2008, or Windows Server 2008 R2
Cross-architecture in-place upgrades (for example, x86 to x64) are not supported.
Cross-language in-place upgrades (for example, en-us to de-de) are not supported.
Cross-SKU upgrades (for example, Windows 7 N to Windows 7 K) are not supported.
Upgrades from Windows Vista to Windows N, Windows K, Windows KN, or Windows E are not supported. Cross-build type in-place upgrades (for example, fre to chk) are not supported.
Pre-release in-place upgrades across milestones (for example, Windows 7 RC to Windows 7 RTM) are not supported.For more details check out the link https://technet.microsoft.com/en-us/library/dd772579(WS.10).aspx
Q: Can computers running Windows 7 Release Candidate upgrade directly to Windows 7 Release to Manufacturer build?
A: Yes, but this is not a recommended or supported scenario. Microsoft recommends persons running the Release Candidate released in April 2009, reinstall Windows Vista and do upgrades from that release to Windows 7 RTM.
Q: Didn't previous development versions of Windows support build to build upgrades?
A: True, but Microsoft has changed this policy for the Windows 7 release. They want users to test against real world scenarios. A build to build upgrade introduces unexpected complications that make it difficult to diagnose problems considering such scenarios do not exist in real world deployments.
You can learn more about the Windows Teams decision:
https://blogs.msdn.com/e7/archive/2009/04/07/delivering-a-quality-upgrade-experience.aspx
Q: What is the difference between Windows 7 RC and RTM?
Windows 7 RC software is a time limited build of the product that focuses on a phase of development. The Windows 7 RTM final release is a complete copy of the software that is designated as ready and fit for use in production environments. To reach Windows 7 RTM, a particular build has to go through a series of thorough regression test and optimizations to reach a level of quality satisfactory for production. Build 7600.16385 is that build and was completed on July 22nd 2009. Another major difference between Windows 7 RC and RTM (in particular Ultimate), with the RC it goes into Reduced Functional Mode on June 1st 2010, bi-hourly shutdowns will begin March 1st 2010. Windows 7 RTM does not expire, also the Windows 7 Ultimate RC are missing or won't receive additional key updates and features such as Language Packs which was recently made available to RTM customers.
Tools of the trade:
So you want to move to the final product, but we now understand that in place upgrades are not supported and you must return to the prior installation of Windows and then upgrade to the final release. To make it easy, the first thing I recommend you do is have an external hard disk on hand, you are going to need this for Windows Easy Transfer, I am sure some of us have data that ranges in many gigabytes and a DVD disk is not gonna be enough or reliable for such a scenario. External hard disks are cheap and easy to use and make the migration process seamless.
The the next thing you will need to do is have your Windows installation disk nearby, if your computer previously had Windows Vista or XP installed, you will need to reinstall it after backing up your personal files and settings using Windows Easy Transfer the External hard disk. Also keep any necessary application disk nearby just in case you will need to reinstall any of your favorite programs. My migration was a unique one particularly because I was using Windows Vista Ultimate 64 bit SP2 prior to Windows 7. So, I was able to take advantage of the Complete PC Backup feature which is unique to Windows Vista Business, Enterprise and Ultimate. Complete PC Backup allows you to create a backup replica of your Windows Vista installation, so in case something catastrophic happens, you can restore your system from a image of your installation when it was working. No need to reinstall applications or device drivers. It is exceptionally convenient and easy to use. With the release of Windows 7, Microsoft has made System Imaging capabilities available in all editions of Windows 7.
If you are a tester who originally had Windows Vista Home Basic or Home Premium installed, prior to installing Windows 7 RC, you would have had to protect your files and settings using the Standard Backup and Restore tools or Windows Easy Transfer, since those editions do not include Complete PC Backup. This also means, if you reinstall Windows Vista Home Basic or Home Premium and restore personal files and settings using Windows Easy Transfer or Backup and Restore Center, your programs and device drivers must be reinstalled. Persons who used third party drive imaging tools such as Acronis Disk Director should not have to go through those steps since the capabilities available in that utility are identical in functionality where disk imaging is related.
Lets begin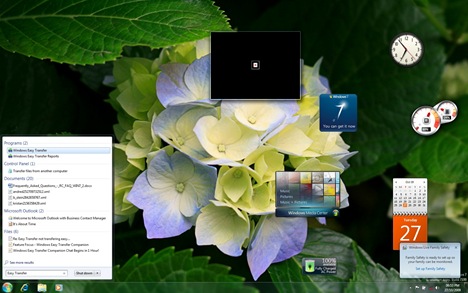 Here I am I booted to my Windows 7 Release Candidate desktop, the first thing I did was turn on my external hard disk, since that is where we will backup our Windows Easy Transfer .mig file. To start Windows Easy Transfer,

click Start, type: Windows Easy Transfer

Hit Enter
The Easy Transfer wizard will now begin, click next and follow the on screen wizard. Our particular choice for backup method will be done by saving the .mig file to a External hard disk.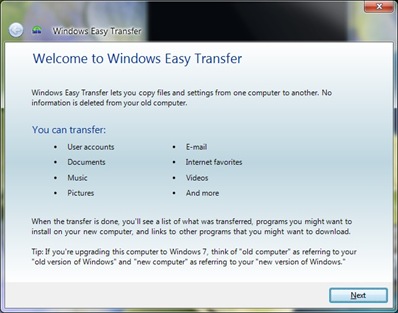 Windows Easy Transfer Wizard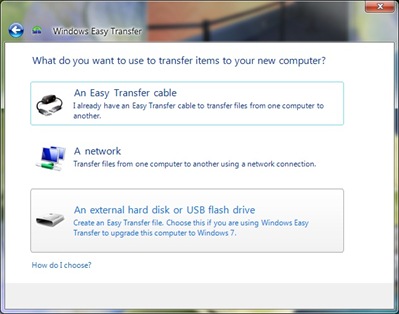 Select the method for assisting the transfer of your personal files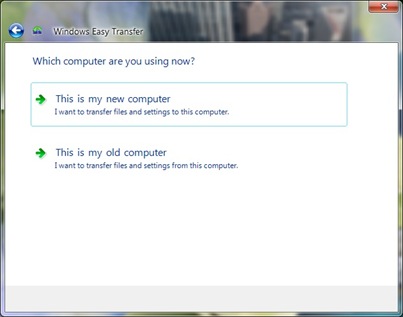 Identify the computer you are backing, in this case, it would be the "old computer"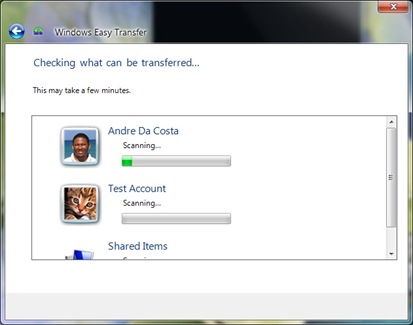 Windows Easy Transfer scans your accounts for files to transferred, along with shared files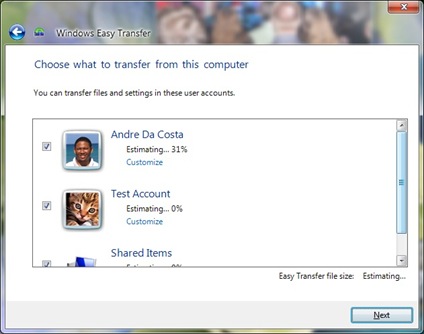 Estimating how many files will be transferred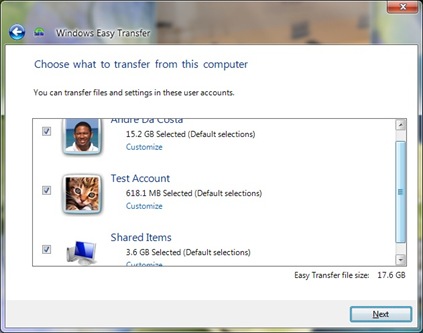 You will now see the total size of the Easy Transfer File that will be created which includes all accounts, in addition to your personal settings. Please note, no programs are backed up.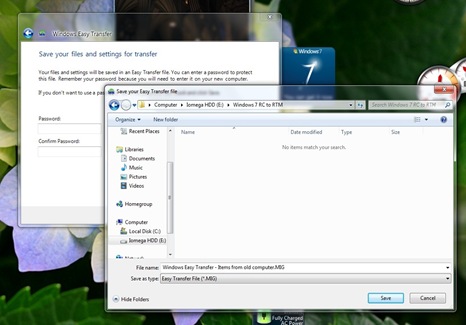 Next step involves securing your Windows Easy Transfer file (optional) and save it to the external hard disk.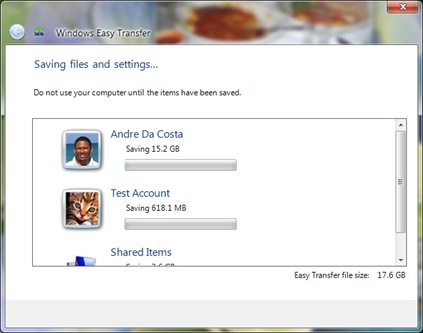 Windows Easy Transfer file is now being saved.
Once we have safely stored our Windows Easy Transfer file on our external hard disk, the next step is to return to Windows Vista. Returning to Vista for some persons might involve, restoring your Complete PC Backup, if you are running Windows Vista Ultimate, Enterprise or Business. If you don't have these capabilities in your edition of Windows Vista (Home Basic or Premium), you will instead have to reinstall the operating system from the DVD, then do the upgrade to Windows 7.
Another thing I have noticed is depending on the edition of Windows 7 you upgrade to, the Windows Easy Transfer file we created might not be able to restore, because they are not corresponding editions. For example, a Windows Easy Transfer file created in Windows 7 Ultimate will not able to be restored in Windows 7 Home Premium or Professional. The only work around for this is to create a standard backup of your files using the Backup and Restore features of Windows 7 Ultimate RC or manually copy and paste files to backup medium.
Restoring our Windows Vista Backup: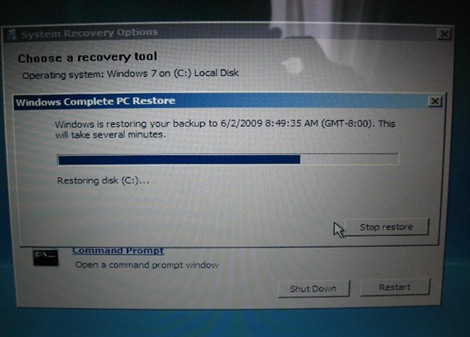 As I had noted earlier, I had my Windows Vista Ultimate installation backed up as a Complete PC Backup. In the above I am restoring it back to my hard disk. To learn more about backing up your Windows Installation and Improved recovery options, check here and here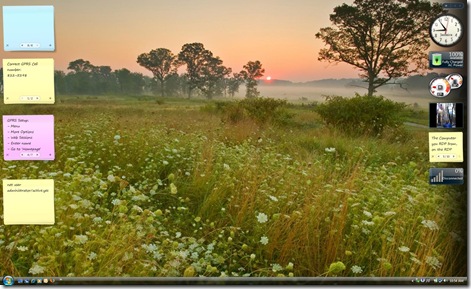 So we are now back on Windows Vista and we have booted to the desktop. Our next step, will involve, doing an in place upgrade using the final version of Windows 7 (upgrade or full version). Of course, I am upgrading from Windows Vista Ultimate SP2 64 bit to Windows 7 Ultimate 64 bit because they are logical, corresponding editions. To start the installation, insert your Windows 7 DVD, click Install Now. To learn more about doing an in place upgrade, please check out the following article here
Pre-requisite Upgrade Notes:
1. Disable any security software before attempting to upgrade or do a clean install.
2. Make sure your computer is updated (devices and applications)
3. Disconnect any non-essential devices before installing.
4. Check your hard disk for any errors:
Click Start
Type: CMD, from the results, right click CMD
Click 'Run as Administrator'
At the Command Prompt, type: chkdsk /r
When you restart your system, your computer will be scanned for errors and attempts will be made to correct them.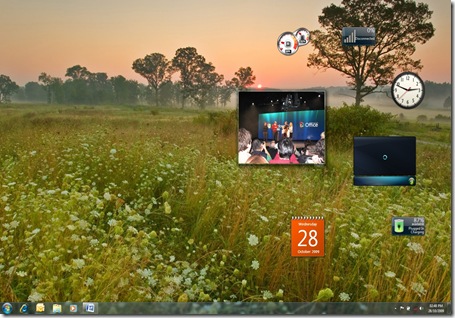 So we have successfully upgraded to Windows 7, but there is one set of task left, restoring our personal data and updating the operating system. The next step now is to launch Windows Easy Transfer in Windows 7 RTM. Make sure the external hard disk where you backed up the Windows Easy Transfer (.mig) file is turned on.

Click Start, type: Windows Easy

Hit Enter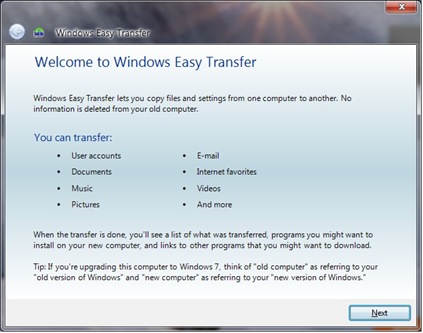 Windows Easy Transfer Wizard begins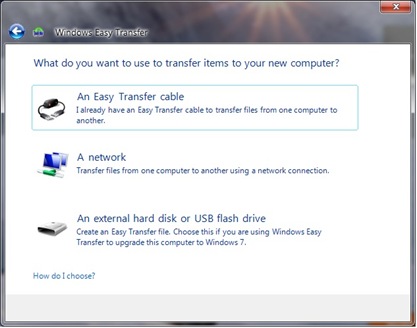 Earlier, we had backed up our Windows Easy Transfer file to an external hard disk, so we will select that option from the three available methods.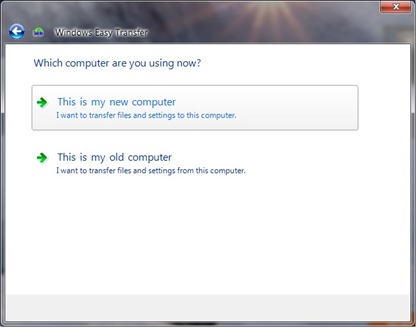 Select new computer, since we are now on the final version of Windows 7.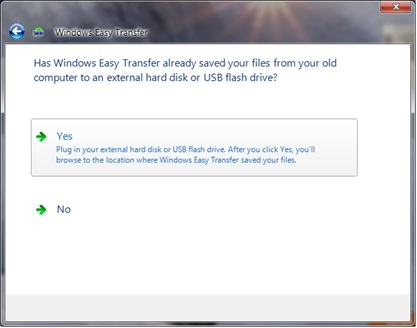 Make sure the External hard disk is plugged in and turned on, click Yes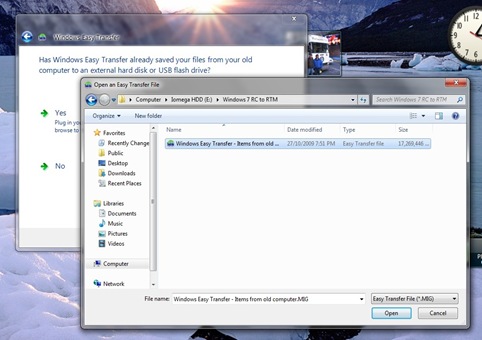 We now browse to the external hard disk where the WET file is stored and click Open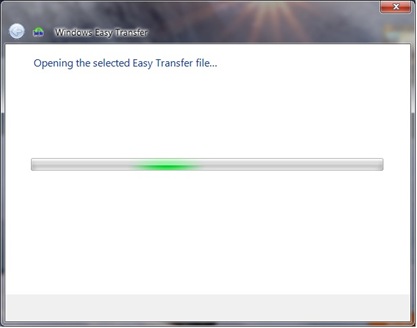 Opening the Windows Easy Transfer file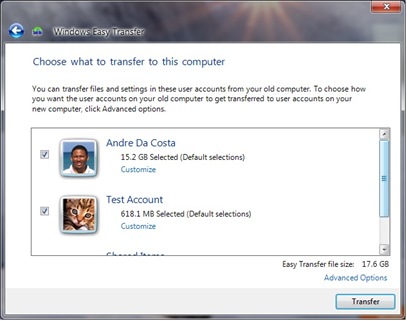 Here you will see the list of accounts and folders that were backed, you can select which accounts you would like to transfer. Click the Transfer button to begin restoring your personal files and settings.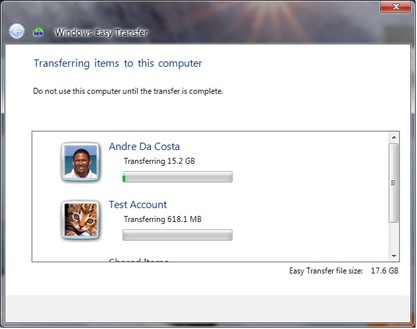 Windows Easy Transfer is restoring your personal files and settings. Please avoid using your computer during the restoration.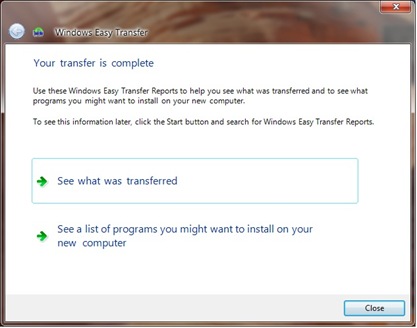 Once you have successfully transferred your personal files and settings, you can see a list of what was transferred along with a list of programs you might need to reinstall.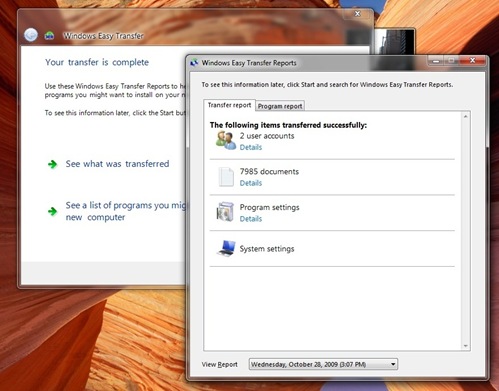 The Windows Easy Transfer Report provides a detailed list of items that were transferred from your old computer, these include: Accounts, Documents, Program settings and System Settings.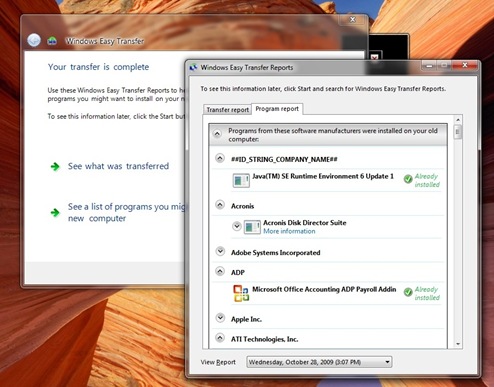 The Windows Easy Transfer Program report, list all the programs that you might need to reinstall. In my case, most of my programs needed are already installed because I did an in place upgrade from Windows Vista.

Before we complete the transfer, we must restart the system to permanently apply the changes.
And that's it, we have successfully migrated from Windows 7 Ultimate Release Candidate to Windows 7 RTM. Now you can enjoy the benefits of the final product which includes key updates and support. Migration will vary depending on the final edition of Windows 7 you purchased and the edition you reinstall and upgrade from. To ensure a smooth upgrade, make sure you do a few things such as:
Install the Windows 7 Upgrade Advisor – This utility provided by Microsoft can help you assess your current hardware devices and software programs before upgrading and make appropriate recommendations before attempting an installation.
Compatible Antivirus utility – A compatible antivirus for Windows 7 will ensure that you have stable, secure and always protected system.
Some of my devices and applications are not working, what should I do?
A: If your Internet connection is working in Windows 7, I suggest you try obtaining the drivers through Windows Update. Click Start > All Programs > Windows Update > Turn on Windows Update. A list of available updates will then be downloaded, you will have the option to view them, do so and check off the appropriate drivers or software patches you need and click Install. You can also check the manufacturer's website for patches, updated drivers or to simply find out about Windows 7 support for the particular product.
Additional Resources:
Related
Using Windows Easy Transfer in Windows 7
How to migrate from Windows XP to Windows 7
How to backup your installation of Windows 7
Advertisement