No longer content to follow in the footsteps of industry innovators, Dell is pulling out the stops and releasing the new Dell Latitude Z, a notebook that is being touted as the first laptop that can recharge wirelessly. But, that's not all the new 'Z' can do, it also has Ultra Wide Band technology to support a wireless monitor dock and even some touch tech as well.
The wireless charging technology in the Z is similar to what you'll find in the Palm Pre and Dell claims that the charging time is similar to what that of charging with the cord. Before you start worrying about how you'll fit the $200 dock into your briefcase, stop, you'll be able to charge the Z with a cord while on the go.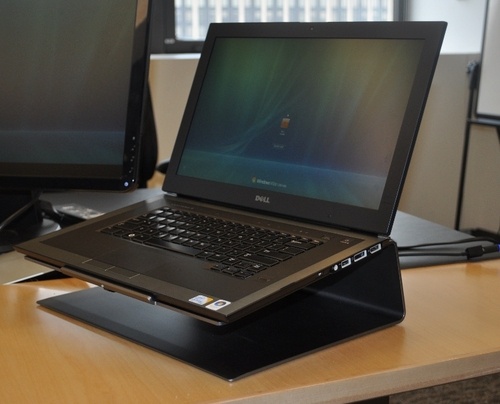 The Z is a very thin .57 inches and sports a 16 inch screen that packs it s own surprise, Dell EdgeTouch. EdgeTouch allows you to touch on the right side bezel, not the screen, to pull up a dock of shortcuts. While Gizmodo ponders how much the average user will use this feature, and I was inclined to agree, CNet points out that you can customize the shortcut list to include functions like volume and screen brightness.
Having talked a number of users through dimming their display and turning on projector mode I think Help Desk staff will enjoy setting up the EdgeTouch technology to handle the common tasks of their executives.
Why executives? Well because the price of the Latitude Z has a price tag of $1999 and that's before you add on the $199 wireless charging stand and a $199 wireless dock that connects your peripherals to the monitor.
The wireless dock connects monitors and other devices to the Latitude Z without any additional connections to the laptop so when you need to walk away there's no need to unplug your iPod and monitor.
But wait. There's more. The Latitude Z also comes with a second ARM processor that powers the instant on boot environment that lets you check email and surf the web without fully booting into Windows. The use of a second ARM processor means users will also enjoy less battery use than the full scale ULV processor from Intel which powers the Windows experience.
For video of the Dell EdgeTouch tech in action and a magician worthy reveal of the no cords charging check out the hands on video that Joanna Stern recorded for Gizmodo.
Advertisement