Laptop Mag's Joanna Stern gets some one on one time with the MSI X-series family and shows us a brief overview of the expanded lineup that includes the X340 we've already seen along with the yet to be released X400 and X600. The X400 sports a larger 14″ screen and the X600 displays 16″ of screen real estate. The X-series will all come with Intel's new ULV Core 2 Solo processors and the X600 will come with an ATI 430 discrete graphics cards.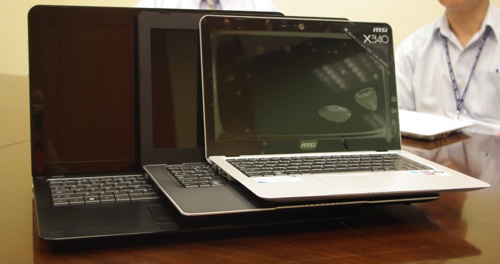 Expected prices remain south of the $1000 mark for all models. This is a brief excerpt from Joanna's hands-on encounter:
The x400 is by far the most premium out of the family. With a 14-inch display, as compared to the x340's 13-inch, the notebook is only slightly larger in comparison. Jazzing up the design a bit, MSI added a silver trim to the edges and around the touchpad and the palm rest has a textured, leather-like covering. As for its insides, the X400 will have the same configuration as the X340 including Intel's ULV processor, 2GB of RAM, a 250GB hard drive and Vista Home Premium. Similar to the X340, the X400 should get around 4 hours of battery life with its standard battery.
The X600 is the largest of the group, with a 16-inch display. It has the same chassis as the X340, but its larger display allows for a full size keyboard with a numeric keypad. Unlike the 13 and 14 inch models, the 16 inch version will have ATI 430 discrete graphics with 512MB of video memory. It will have the Intel Core 2 Solo 3500 processor, 2GB of RAM, 250GB hard drive and pack Windows Vista Home Premium. However, the demo unit we saw was running Windows 7.
Check out the full article here.
Advertisement