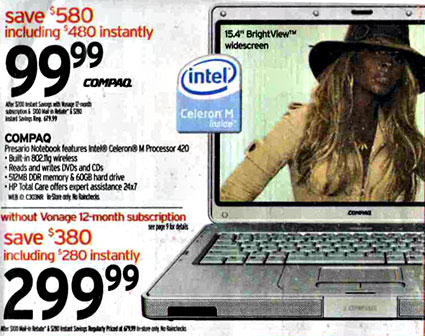 Update for $299 for Black Friday 2007- Click here for year's Circuit City Deal on the Compaq Pressario C717NR
After taking a closer look at the Circuit City Black Friday ad, hereï¿Â½s the lowdown. The retailer will be selling the Compaq Presario C303NR for $299, not the C306NR as we mentioned earlier. Only difference is this model only has a 60GB hard drive. Now for the good news. If youï¿Â½re willing to sign up for Vonage VOIP telephone service you can have the Compaq C306NR for $99 after a $280 discount and $100 rebate. The 15.4-inch widescreen C303NR comes with 512MB of memory, DVD/CD burner and Intel Celeron M420 1.6GHz processor. This notebook is very similar to the Compaq v5305wm which Wal-Mart sold for $398. This line is being discontinued and is not the fastest thing in the world. But if youï¿Â½re on a tight budget and need something for school or home, this is the cheapest notebook out there.
I wouldnï¿Â½t recommend signing up for Vonage just to get the $99 deal, but if you were thinking about switching your landline over to VOIP go for it.
The deal is in-store only and limited to stock on hand Let us know if any of you score one of these. Also, we still recommend all bargain hunters take a close look at the Compaq Presario V3000 for $399 ($349 for students), which is a newer model and can be customized online. With the V3000 you won't have to do anything crazy like get to the store at 5am and fight the crowds.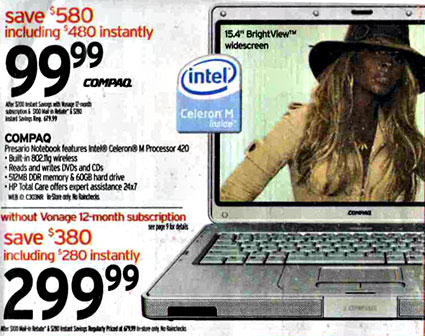 Advertisement