Have you ever used your laptop as a portable media player or hooked it up to a projector for a presentation at the office? If you have, chances are you also strained your ears to listen to the weak sound trickling out from the underpowered speakers. Want an affordable and portable solution? Then try the B-Flex 2 USB speakers from Jlabs.
The B-Flex 2 is a great addition to your laptop kit. Weighing in at 4 ounces and featuring a flexible gooseneck design, it's incredibly easy to fit into your laptop bag and hit the road. The sound from the B-Flex 2 far outweighs the less than ideal output from your average laptop speakers. With a frequency range of 200 – 20,000 Hz the speakers don't pack any real bass, but the rest of the sound comes out loud and clear. It plugs directly into any available USB port and without any drivers its powered and ready to go.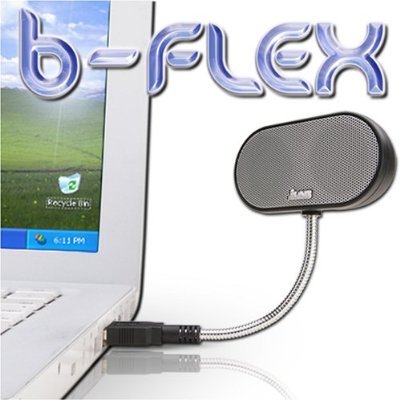 Those who are particular about their stereo sound experience will be somewhat disappointed with the B-Flex 2. Since most laptops feature their USB ports on the sides of the unit the B-Flex is forced to be plugged in to one side of your laptop or the other. Although your still getting stereo sound, it will be coming from one side of your laptop. The other unfortunate part about being USB powered is that it means your laptop is powering the speakers from its own battery.
Overall, at $30 the B-Flex is a drop in the bucket for a flexible alternative to your onboard speakers. I would add this to the list of great gift buys for the laptop owner in your family.
Pros:
USB powered
Flexible gooseneck
Compact design
Louder & overall better sound than your onboard speakers
Comes in an array of colors
$30 price tag
Cons:
Drains your battery quicker since its USB powered
Sound is limited to the side you plug the device into
Advertisement