A lot of netbooks look and feel like toys, but HP's blessed the Mini 1000 with design cues borrowed from its Pavilion notebooks, making it the best looking netbook to date. This Mini 1000 is an excellent choice for anyone that understands the limitations of a netbook, likes the idea of simplicity and favors style over having a couple of extra ports and plugs.
My favorite feature on the Mini 1000 is its generously sized keyboard, which makes it usable for those of us with large hands. I think the HP Mini is going to become one of the hottest-selling netbooks in the coming months as HP is distributing it through its extensive retail network and once people get their hands on it they don't want to put it down.
The Mini 1000 does everything a netbook's supposed to do, but there are compromises. The Mini 1000 is a consumer netbook, which means it's geared towards casual users, not business users who generally need more durable devices. Its plastic shell looks great, but is a fingerprint magnet and isn't nearly as sturdy as the aluminum finish found on the business-oriented HP Mini Note 2133. I recommend business users avoid the netbook market entirely until more robust systems are introduced in 2009.
I first saw the Mini 1000 before it was released and posted several videos. Since then I've had the chance to spend some more time with the HP Mini 1035nr, a pre-configured version that includes the optional 10.2-inch display, Bluetooth, 1GB of RAM, a 60GB hard drive and Windows XP. This configuration currently costs $464.99, while the base model starts at $369.
There are plenty of good netbooks out there, but the average consumer knows and (mostly) trusts the HP brand more than ASUS, Acer and MSI. Millions of EeePC and Acer One netbooks have been sold already, but I predict the Mini 1000 is going to dramatically increase the popularity of the netbook segment.
HP has the most shelf space of any PC manufacturer at key retail locations such as Best Buy. This is a huge advantage and something that can't be underestimated by HP's competition.
Once people touch the Mini 1000 they want one. Women I've talked to LOVE the Mini 1000. I was introduced to a lady at a dinner party last night and when I told her that I wrote for Notebooks.com she immediately told me she was interested in buying the super-cute HP notebook she saw at Costco. My mother wants one to write with and my wife is waiting for the Mini 1000 Vivienne Tam edition  to come down in price before getting one.
Of course, buying a netbook is a very personal decision and you may or may not agree with my findings, but I can assure you that the Mini 1000 has some "it" factor that will make most consumers forget about some of its shortcomings.
For it's smart design, mass appeal, Mobile Internet Experience and best-in-class keyboard, the HP Mini 1000 earns Notebooks.com Editor's Choice Award.
HP Mini 1000 Appearance: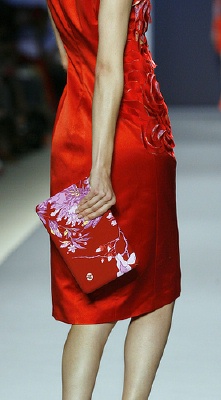 The Mini 1000 has a plastic shell with the HP Swirl design imprinted in the lid. The same technique and material are used on the Mini 1000 as the rest of the Pavilion line.
There is a red special edition Mini 1000 that's aimed directly at the fashionistas and has been carried down runways by models that weigh just a few ounces more than the netbook 😉 Some people call the Mini 1000 a digital clutch" because of its fashion appeal and after spending any amount of time with it you'll understand why.
The HP Mini 1000 I reviewed is the standard black version, which has the same external appearance as the Pavilion consumer notebook line. Several other manufacturers' netbooks are like the redheaded stepchildren of their notebook families and don't look like their bigger brethren at all.
The Mini 1000 's Infinity Display" has no bezel, giving it a nice premium look. There is a small HP logo on the lid of the notebook, another just below the screen and a small HP Mini" monogram on the right side of the display. The markings are minimal and tasteful.
Here's a photo of the Mini 1000 compared to the HP Pavilion dv4. As you can see, the Mini 1000 has a similar appearance and obviously belongs to the same family.
HP Mini 1000 Performance
The HP Mini 1000 I reviewed has pretty typical specifications as far as current netbooks go: 1.6GHz Intel Atom Processor, Intel GMA 950 and 1GB of RAM and Windows XP. As you can imagine, it performs very similarly. It's relatively snappy when it comes to web browsing and writing/reading email, but sluggish when it comes to processor and graphics intensive tasks. I imported several dozen recent pictures from my Canon Powershot and edited them using Google Picasa. The Mini 1000 was up to the task and I could perform basic edits on my jpg photos.
But when I installed Photoshop Elements 7 the Mini 1000 had met its match. I could some simple tasks I waited for the hourglass way too often and the application crashed repeatedly. Netbooks really aren't meant from graphics applications and this is an example of when a full-sized notebook is a better choice than a netbook.
HP Mini 1000 Graphics
I could watch high quality YouTube videos full screen. The best video quality was achieved with my SlingBox since the Slingbox player automatically adjusts video quality so it doesn't stutter. The HP Mini 1000 comes with Intel's Graphics Media Accelerator 950. This is a very basic graphics solution and at times it struggles with the most basic video playback, but this is par for the course with current generation netbooks. Don't expect to play video games or high bit-rate video on the Mini or similarly configured netbooks. Watching Hulu.com HD video was like watching a stop-action animation.
Keyboard and Touch Pad:
Typing on the Mini is not as comfortable as typing on a Pavilion notebook, but it's luxurious compared to the S10 and other netbooks I've used. I have large hands so this is especially important to me. Children and those with petite hands may not appreciate this aspect of the Mini 1000 as much as I do.
The HP Mini 1000 has the best keyboard of any netbook I've used. Its keys are 92% of the size of a standard notebook keyboard, which is is significantly larger than those found on the Lenovo IdeaPad S10 or the EeePC series. Nothing compares to a full sized keyboard, but after getting adjusted to the keyboard I could easily touch-type at nearly full speed without thinking twice.
I've learned to touch-type on the S10 (picture below), but it's not nearly as comfortable and I accidentally hit the wrong buttons too frequently. As you can see the HP Mini 1000's keys are much larger than the S10's.
The only quirk that continues to bug me on the Mini 1000's keyboard is that the 1" key is smaller than the rest of the number keys. I sometimes hit the ~" key when typing.
While most netbooks have the click buttons beneath the touchpad, the HP Mini 1000's buttons are to the left and right of the touch pad. This unusual button layout is borrowed from the Mini 2133's design and while I learned to adapt to the layout after a couple of days, some people hate this layout with a passion. I wouldn't let the touch pad issue layout hold you back from getting the Mini 1000. You can minimize the use of the buttons by tapping on the touch pad to click and there's a scroll zone on its right side.
There's a button above the touch pad that disables it and the left/right click buttons so you don't have to worry about accidentally hitting them, but I wish HP would kill this button in favor of a bigger touch pad.
HP Mini 1000 Dimensions and Portability
Portability is one of the primary reasons why  you should consider adding a netbook to your digital lifestyle and the Mini 1000 is small enough to bring wherever you go.
The Mini 1000 weighs 2.38 pounds and measures  10.3 inches wide, 6.56 inches deep and .99 inch tall. It's easy to carry around, stow in your book bag, shove in most purses or hide in your glove compartment.
Here's a video of the Vivienne Tam edition Mini 1000 slipping into a purse.
I've also found the Mini 1000 to be useful on the road.
Having a WWAN connection and a netbook in your glove compartment provides is really convenient. My car's glove compartment is tiny, but just big enough for the Mini 1000, my 30GB iPod and Compass 597 wireless modem to coexist. My car has both an iPod integration kit and an auxiliary audio input, which means I could potentially plug the Mini 1000's headphone jack into my car's audio system to listen to music and movies (while not driving of course).  I'm going to use this setup to access Pandora for a nearly limitless audio library on the go and to watch live TV via my Slingbox.
HP Mini 1000 Storage Capacity
HP had to use the smaller drive so it could make the Mini 1000 thinner than many other netbooks on the market. Some notebooks, such as the Mini note 2133 and the IdeaPad S10 have full sized 2.5-inch hard drives that spin at 5400RPM or 7200RPM. It's easy to find 2.5-inch drives in large capacities for cheap, but the Mini 1000 doesn't have room for one and uses a more compact 1.8-inch 4200RPM drive.  Competing products can be configured with much larger drives and this can be a deal breaker for users that like to schlep around all their multimedia files. The HP Mini 1035nr comes with a 60GB hard drive, which is the only hard drive option for the time being. The cheaper base model comes with 8GB or 16GB of flash memory. The 60GB drive is more than sufficient for most users that are using the Mini 1000 as a secondary computer, but things can quickly get tight if it's your only computer. One way to remedy this is to buy a 16GB SDHC card and keep it in the card slot to house some of your multimedia files.
HP Mini 1000 Display:
The HP Mini 1000 I reviewed has a 10.2-inch glossy display with a 1024×600 pixel resolution. The 10.2-inch display is a $50 option and I highly recommend it over the base 8.9-inch display. The screen is very bright, but I wish it had the same resolution (1280x 768) as the Mini Note 2133.
The infinity display gives the Mini 1000 a nice poslished look that's consistent with the premium options available on the Pavilion dv series notebooks. The picture is sharp, clear and performs as good as you can expect while indoors.
I generally prefer matte (non-glossy) displays because of their versatility and lack of reflections. In bright direct light or outdoors it can be extremely difficult to read the display. As you can see the screen can be hard see while using in a car on a sunny day.
There's a mediocre Web-cam built into the display that is good enough" for basic web chats, but the image is grainy, especially in low-lighting conditions. If you want to be a YouTube star you're going to want to use an external Web cam with the Mini 1000.
The lid is latchless, which means there's nothing holding the display to the palm-rest area. The lid doesn't shut as firmly as I'd like it to making it possible for objects in your bag work their way in. I found a pen wedged in the gap once and I'm worried this issue can lead to possible screen damage.
HP Mini 1000 Software:
The Mini 1000 I reviewed came with Microsoft Windows XP Home SP3. I've taken a look at the Mobile Internet Experience (MIE) version of the HP Mini 1000 and think it's a great option for many users, but I prefer being able to install Windows applications as needed.
I've been one of the few lucky people outside of HP to spend any time with a Mini 1000 with MIE and really liked what I saw. The Ubuntu (Linux) interface looks slick and inviting. It's simplistic, yet has tools for nearly everything typical netbook users need. There's an email client, Web browser, media players and the ability to add Linux compatible applications such as OpenOffice. Hopefully HP will make MIE available to all Mini 1000 owners when it's released in January
Check out the video I shot of the Mini 1000 with Mobile Internet Experience:
The Windows-based HP Mini 1000 comes with Micorosft Works, which is a basic productivity suite that's more than sufficient for editing Office documents and spreadsheets.
The Mini 1000 iss relatively crap-ware free compared to most notebooks, which means you aren't bombarded with countless offers and trialware that you have to remove yourself.
HP Mini 1000 Ports and Plugs:
On the front edge of the Mini 1000 are two switches and two LEDs. The switch on the left is for power and the switch on the right is for the wireless antennas. This switch is useful as it's a quick way to preserve battery life assuming you aren't using any Bluetooth devices and aren't connected to a WiFi network. The LEDs indicate hard drive activity and charging status.
On the right side of the notebook is a SD Card /MultiMedia Card reader, a USB port and a lanyard slot. Many netbooks and full-sized notebooks have shallow SD Card slots, which means your memory cards hang out of the side of your computer. But the Mini 1000's card slot is deep enough to hold the SD card flush to the side of the netbook. This means you can stow an SD card semi-permanently in the Mini 1000 without worrying about knocking it out of the slot or losing it.
One quirk on the Mini 1000 is that models with a flash drive have a third USB-ish port that is recessed and accepts a proprietary memory card. It's hidden behind a plastic door, but the port is absent on hard drive models. Space is at a premium on any netbook and HP should have used an industry-standard memory slot such as microSD instead of its own format. I have a feeling that very few users will use this port.
On the left side of the Mini 1000 is an Ethernet jack hidden behind a rubber stopper, a headphone/microphone combo port, an expansion port, another USB 2.0 port and power port. The expansion port can be used to connect to an external monitor via a VGA adapter. The expansion port can also be used to connect to docking station that will charge the battery, connect to peripherals and pump video through to an external monitor and peripherals.
I wish there were dedicated microphone and headphone jacks instead of the combo one, but space is limited because of the slim design.
HP Mini 1000 Battery:
The Mini 1000's battery is a flat slab that's positioned in the bottom of the notebook almost smack-dab in the middle. It uses flat battery cells, which enable the thin design, but the battery doesn't have as large of a capacity as other netbooks.
The standard HP Mini 1000 battery has 3-cells and lasted a hair under two hours and fifty minutes while web browsing and writing this review.
HP is planning to sell a 6-cell extended battery that will be wedge-shaped and tilt the notebook forward. If you want all-day computing or to use a Mini 1000 on a cross country flight I recommend getting the extended battery when it becomes available or doubling up on 3-cell batteries.
HP Mini 1000 Wireless:
All Mini 1000 netbooks come with 802.11b/g WiFi so you can connect to your home network and hotspots. Bluetooth is a $25 option on customizable models and standard on some quick-ship models such as the 1035nr I reviewed. If you're going to be using the Mini 1000 while on the go Bluetooth is a must-have option. I paired my Jawbone 2 headset to it to make Skype calls.
I had no problems setting the Mini 1000 up to work on my home network. I was able to view TV programs on the Mini 1000 via my SlingBox Pro from a distance of about 40 feet without issue.
You can order an integrated WWAN modem, for use with either AT&T or Verizon's mobile broadband service, for $199. These services are very expensive (about $60 per month with a 2-year contract). The cost of the service will quickly outpace the cost of the HP Mini 1000 and an affordable netbook might not bet the best choice if you have the budget for the WWAN service.
HP Mini 1000 Audio
The Mini 1000's speakers are located beneath a metallic mesh cylinder at the hinge of the display. In a quiet room they are audible and sound decent for their small size, but they're not loud enough to use in a moderately noisy environment. I highly recommend using wired or Bluetooth headphones if you want to listen to music or chat with your friends.
Mini 1000 Packaging
If you plan on giving the Mini 1000 as a holiday gift you can rest assured that the recipient will have a very pleasant out-of-box experience. The box is actually nicer than the Pavilion line's plain boxes.
Conclusion:
The Mini 1000 I reviewed is an excellent choice and value for someone that understands the limitations of a netbook. It's highly portable and its keyboard makes it much more useful than netbooks with smaller keys.
The configuration in this review has a retail price of $464.99 and will provide the vast majority of consumers a solid portable web, email and productivity experience. Business professionals looking for an enterprise-class computer should avoid the Mini 1000, along with all current netbooks.
Geeks and gadget tweakers may not like the Mini 1000 either as there's not as the Mini 1000 doesn't lend itself to tweaking the same way slightly larger netbooks do.It's the best looking netbook I've used so far and its upcoming Mobile Internet Experience makes Ubuntu approachable to long-time Windows users.
If you like what you see on the shelf, then by all means buy the Mini 1000. The Mini 1000 is available directly from HP and brick-and-mortar retailers such as Costco and Best Buy. If you're new to the netbook concept I recommend buying your Mini 1000 from Costco as they have a generous 90-day return policy on computers so you can decide if it's right for you.
Advertisement