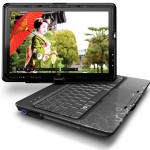 HP's TouchSmart tx2 is the first consumer Tablet PC with a multi-touch display, which enables users to control the computer using gestures. The TouchSmart tx2 is available for order starting today for $1,149
.
The TouchSmart tx2 is an improvement over HP's previous tablet, the Pavilion tx2500z. The tx2500z does include a touchscreen, but you can only use one finger at time. The new capacitive touch is a really big deal and if you're considering a tx-series tablet you should ignore the tx2500z, which is still being offered by retailers and on HP's Web site, and opt for the tx2.
Check out the below HP promo video to get a sense of what multi-touch means. If you're an iPod Touch/iPhone owner you'll feel right at home with the tx2. While in tablet mode you can write on the tx2's display with the included digitizer.
The TouchSmart tx2's interface is similar to the HP's desktop TouchSmarts that I first played with back in June. I wondered when we'd see it on a tablet and am really happy that HP's offering similar features in a mobile package.
I recommend the TouchSmart x2 as long as you're certain you'll use the tablet and touchscreen functionality. If you don't plan on using the digitizer on a regular basis I recommend looking at a traditional notebook.
TouchSmart tx2 Display
The Touchsmart TX2's 12.1-inch display (1280×800 pixels) is on the small side and I recommend using an external display if you're going to use it for a long period of time. HP does sell several port replicators and docking solutions that are compatible with the TX2.
The display swivels 180-degrees and can fold down into tablet mode, making it easier to use with the digitizer and while standing.
TouchSmart tx2 Dimensions:
HP TouchSmart TX2 has a starting weight of 4.33 pounds with a standard 4-cell battery and the plastic weightsaver in place of the DVD/RW drive.
TouchSmart tx2 Battery Life
HP's standard configuration for the TX2 seems to include a 6-cell battery, which will add a few ounces to the equation, but the extra juice is well worth it. The TX2 shares many of the same components with the tx2xxx series and battery life has been less than impressive on this series. When I carry my tx2000z I always carry an extra battery.
TouchSmart tx2 processor
The TouchSmart TX2 comes with AMD Turion processors. The base configuration includes an AMD Turion ZM 72 (2.1GHz/1MB) L2 Cache processor. I recommend spending the extra $75 to upgrade to the AMD Turion ZM 82 (2.2GHz/2MB L2 Cache) processor.
TouchsMart tx2 Memory
The TouchSmart TX2 comes with 3GB RAM standard, which is the most 32-bit Vista will recognize. If you opt the 64-bit version of Vista you can go nuts and order 8GB of memory for $725. Obviously loading up a $1,149 notebook with $725 worth of RAM doesn't make a whole lot of sense. The $75 4GB option is more than adequate.
HP TouchSmart tx2 Hard Drive
The TX2 comes with a 5400RPM drive with a choice of 160GB, 250GB, 320GB, 400GB or 500GB capacities.
HP TouchSmart TX2 Specifications:
Advertisement