As part of a big announcement of new notebook computers, HP is revealing the new 15.6-inch HP ProBook 4525s Notebook PC. This attractive new business machine will come in two colors Caviar which is a dark almost black finish and Bordeaux which has a tinge of red in it. The new computer will ship with AMD processors (Phenom II Quad or Triple Core, Turion or Athlon Dual Core or V-Series Single Core) and advanced multimedia support as part of the AMD VISION Pro line of computer platforms. The playback controls for things like watching movies are now part of the keyboard itself. And the ATI Mobility Radeon graphics along with the 1366×768 resolution display will make this a suitable notebook for watching 720p HD video. An HDMI out port will allow you to connect it to an external display carrying both the video and audio for an easy to use single wire connection.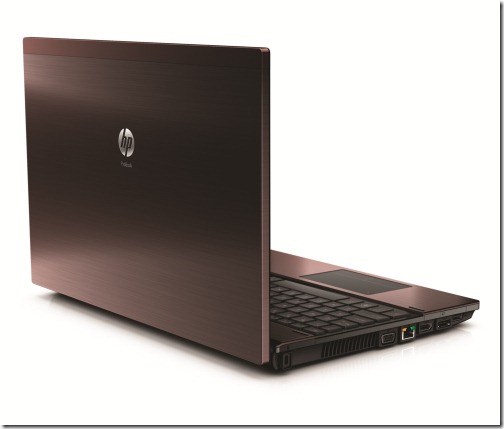 The Bordeaux Color Option
Power is an important factor in a notebook computer. the 4525s comes with a 6 cell battery. An optional 9 cell battery will give you even more life while going mobile. HP's included HP Power Assistant which will show you how much life is left in the battery and help you to conserve if need be.
These new computers come with a brushed aluminum finish, instead of the traditional plastic bodies from previous HP systems. This is a significant change for the company's offerings.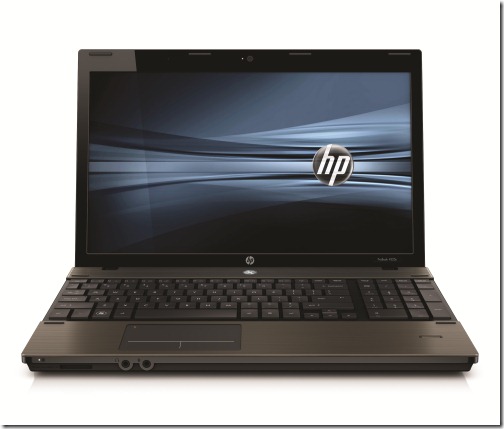 The Caviar Color Option
Getting at your information quickly is important to business users. HP's QuickLook 3 helps you access email, dates and times, contacts and tasks within seconds. HP QuickWeb does the same for getting online even if your computer is turned off.
To protect your data, besides security software (see specs below) the HP 3D DriveGuard will keep your hard drive safe in the event of a drop, thanks to the accelerometer detecting the drop and telling the hard drive to stop.

These new systems will be priced starting below $700.
Watch as Mike Hockey from HP describes the S series below:
Here are the detailed specs for the HP 4525s Notebook PC:
Brand
HP
Model
ProBook 4425s Notebook PC
Operating system
Preinstalled Choises: Genuine Windows® 7 Professional 321 Genuine Windows XP Professional available through downgrade rights from Windows 7 Professional 321,3 Genuine Windows® 7 Home Premium 321 Genuine Windows® 7 Home Basic 321 Genuine Windows® 7 Starter 32 1 Genuine Windows Vista® Business 322 Genuine Windows Vista® Home Basic 322 SUSE Linux Enterprise Desktop 11 FreeDOS Red Flag Linux (PRC only) Supported Choices: Genuine Windows 7 Professional 64 Certified: SUSE Linux Enterprise Desktop 11
Processor / Graphics
Choice: AMD Phenomâ"¢ II Quad-Core Mobile Processor (up to 1.6 GHz, 2 MB L2 cache), AMD Phenomâ"¢ II Triple-Core Mobile Processor (up to 1.8 GHz, 1.5 MB L2 cache), AMD Turionâ"¢ II Dual-Core Mobile Processor (up to 2.3 GHz, 2 MB L2 cache), AMD Athlonâ"¢ II Dual-Core Processor for Notebook PCs (up to 2.1 GHz, 1 MB L2 cache), AMD V-Series Single-Core Processor for Notebook PCs (up to 2.2 GHz, 512 KB L2 cache)

Integrated: ATI Mobility RadeonTM HD 4250; Discrete: ATI Mobility RadeonTM HD 530v, with 512 MB dedicated video memory with

HyperMemory* support *Indicates dedicated video memory and shared system memory.

Memory
Choices: DDR3 SDRAM, 1333 MHz,* two slots supporting dual channel memory,141024/2048/4096 MB SODIMMs, up to 4096 MB standard and up to 8192 MB total with optional upgrade * Memory speed is processor dependent
Hard drive
Choices: SATA hard drive: 250/320/500 GB 7200 rpm, with HP 3D DriveGuard
Display / Resolution
Choices: 15.6-inch diagonal LED-backlit HD (1366 x 768), 15.6-inch diagonal LED-backlit HD7 (1366 x 768) BrightView
Removable Storage
Choices: ixed 12.7-mm SATA optical drive: Blu-ray ROM DVD+/-RW SuperMulti DL LightScribe Drive,5,6 DVD+/ RW SuperMulti DL LightScribe Drive,5 DVD-ROM Drive5
Wireless Support
Optional HP un2450 EV-DO/HSPA Mobile Broadband Module 2.0* with GPS support (requires mobile network operator service)17,20

with HP Connection Manager 3.0; 802.11 b/g/n, b/g; Bluetoothâ"¢ 2.1, HP Wireless Assistant

* Available with integrated graphics only

Communications
Realtek Ethernet (10/100/1000 NIC), optional 56K v.92 modem
Input Devices
Full-sized spill-resistant keyboard/ClickPad with Gestures support, Optional Fingerprint Sensor
Power
6-cell (47WHr) Lithium-Ion battery, 9-cell (93WHr) Lithium-Ion battery, 90W HP Smart AC Adapter (discrete graphics), 65W HP Smart AC Adapter (integrated graphics), HP Fast Charge18
Accessories
HP USB 2.0 Docking Station, HP Essential Port Replicator, HP Basic Adjustable Stand
Security software/features
HP ProtectTools, Central Management for HP ProtectTools, Optional HP Fingerprint Sensor, Device Access Manager, Enhanced Pre-Boot Security, HP Spare Key, HP Disk Sanitizer, Drive Encryption for HP ProtectTools, Credential Manager for HP ProtectTools, File Sanitizer for HP ProtectTools, Kensington Lock slot, McAfee Security Solution
Other Software
HP Recovery Manager (Windows 7 and Windows Vista only), HP Support Assistant, Norton Online Backup, HP QuickLook 3, HP QuickWeb, HP DayStarter, HP Power Assistant, HP SoftPaq Download Manager, ArcSoft TotalMedia Suite, Skype, WinZip trial, Corel Home Office,9 HP Face Recognition
Memory card reader
Media Card Reader
Accessible memory slots
2 slots, option of 1 or 0 open for expansion
Maximum Memory Expansion
Up to 8 GB
Ports
(3) USB 2.0 ports, (1) eSATA/USB 2.0 combo port, VGA, HDMI, stereo microphone in, stereo headphone/line out, power connector, RJ-11/modem, RJ-45/ethernet
Additional Ports
Express Card/34 slot
Audio
High Definition Audio, stereo speakers, stereo headphone/line out, stereo microphone in, integrated digital microphone;
ENERGY STAR Qualified
Yes
Weight
Min. 5.27 lb/2.37 kg without optical drive, 5.55 lb/2.52 kg with
Dimension
1.07 (at front) x 13.23 x 9.15 in/27.0 (at front) x 336 x 232.4 mm
Thinness
1.07 in (at front)/27.0 mm (at front)
Network Card
Realtek Ethernet (10/100/1000 NIC)
PC Card Slot
None
Webcam
Optional 2 MP Webcam
Multimedia and Entertainment
ArcSoft TotalMedia Suite, Skype, HP Face Recognition
Warranty
Limited 1-year and 90 day warranty options available depending on country, 1-year limited warranty on primary battery. Optional HP Care Pack Services extended warranty
Advertisement