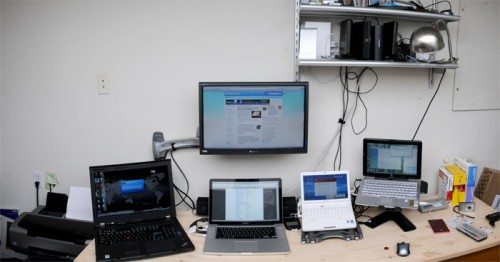 A Notebooks.com reader recently asked me what kind of notebooks and gear I use so I snapped this picture of what my desk currently looks like. It's messy, but it's a work in progress as I just bought a new desk over the weekend.
The guys from Ergotron recently published a guide on how to set up a portable technology workspace to prevent pain and injuries and it got me thinking about how much my old desk sucked. It was too low and too cramped and after reading the guide I was motivated to switch things up.
The new desk is just a 7'x2′ slab of wood, but it has adjustable legs so I could raise it up to an appropriate height.
To the left of my desk is my Epson Stylus R1800 printer, which I use to make prints of up to 13″x19″. It's overkill for printing documents, so use a cheaper HP Photosmart printer (off camera) for day to day printing.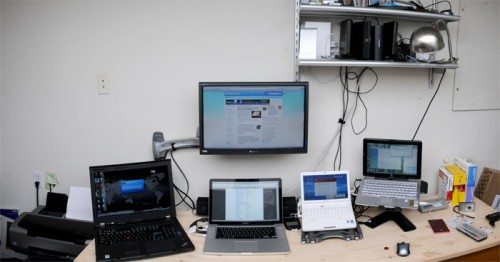 The notebook on the left side of the desk is a Lenovo ThinkPad W700, which is a quad-core machine with a gorgeous display and integrated Wacom digitizer in its palm rest. The ThinkPad W700 is on loan, but I'll just put whatever workstation notebook I'm currently reviewing in its place. I recorded a video tour of the W700 if you want to learn more about it.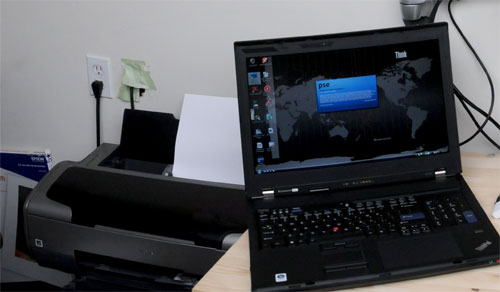 Next to the W700 is my new MacBook Pro (2.53 GHz, 4GB of RAM, 320GB drive). It's the latest model, with the nifty unibody construction. I'm still getting used to the glossy display, touchpad and the chicklet-style keyboard. The lack of a FireWire 400 port is getting on my nerves since I have a lot of FireWire devices and I can't find a FireWire 800 hub.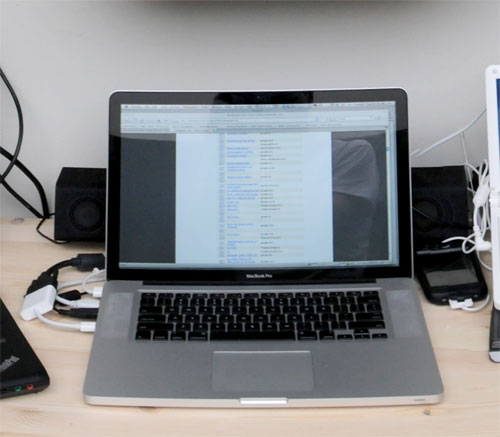 Behind the MacBook Pro is a Logitech AudioHub speaker, which also acts as a USB hub. I reviewed it a while back here. My iPhone 3G is plugged into the AudioHub to charge and sync.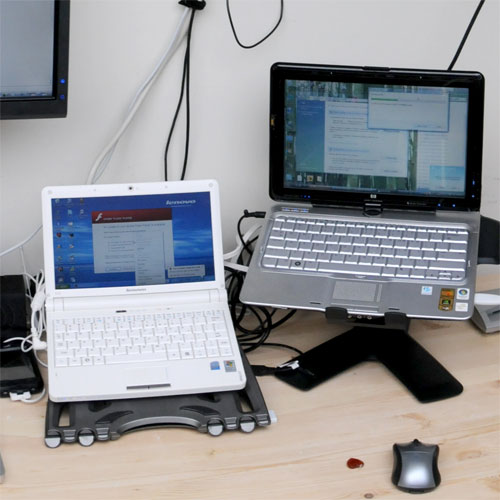 The next notebook over is a Lenovo IdeaPad S10. I'm going to keep the S10 or another small netbook in this position and use it for online banking and other web-browsing tasks. The S10 is sitting on a Lapworks Laptop Desk Futura stand.
The notebook to the far right is my HP Pavilion tx2000z, which is a really cool little machine. It has a touchscreen display and is really well configured for a tablet (2.3 GHz AMD Turion 64X2 processor, 4GB of RAM, 250GB hard drive. It's sitting on top of an Ergotron Neo-Flex, which is a professional-grade notebook stand. Its arm articulates up and down very smoothly. The base is shaped like a "Y" and it swivels around- the front two prongs of the Y have wheels, while the one in back sticks solidly to the desk. I'm using a Seagate Free Agent Go 320GB portable drive to back up the tx2000z. I use a simple Logitech 2.4GHz optical mouse on various notebooks.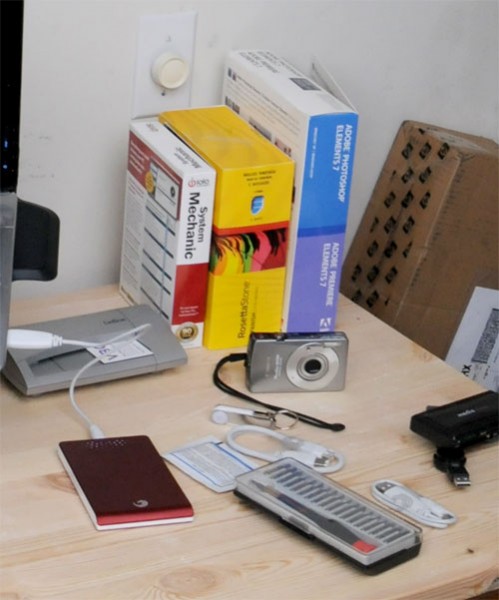 Behind the FreeAgent Go is a CardScan business card scanner I plan on using to digitize the hundreds of business cards I've collected over the years. To the right of the scanner is my Canon PowerShot SD750, a digital camera I bought for my recent trip to Europe. It does the trick for basic shots, but it doesn't come close to replacing my Nikon D300 SLR of course.
In front of the camera is a screwdriver set that I use to open computers and peripherals, some cables and a Kensington external battery for iPhones and iPods. Behind the camera are some boxes of software (Adobe Photosop Elements 7/Adobe Premiere Elements 7, Rosetta Stone Spanish and System Mechanic.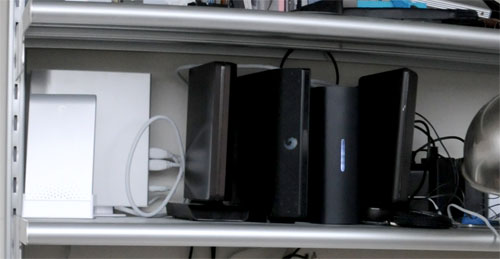 I installed a stack of three shelves above my desk. I put it way up high so it wouldn't get in the way of any notebooks or displays I may install later. The bottom shelf is storage central. On the left side is a 1TB Seagate FreeAgent Desktop for Mac, which I use as my Time Machine backup drive. Plugged into that via FW800 is a 320GB Seagate FreeAgent Go for Mac on its included stand. To the right of these two drives is an older 500GB Seagate FreeAgent drive, a 1TB FreeAgent Xtreme drive, a 750GB Western Digital MyBook drive and another 500GB FreeAgent drive. On the second shelf I keep several more portable hard drives, and software. The third shelf (not pictured) is home to my printing supplies and blank DVDs.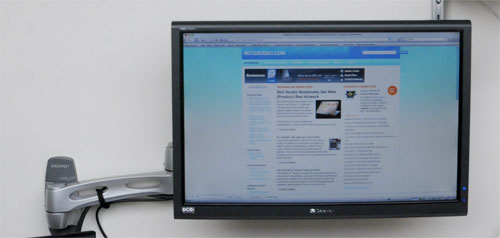 I'm using the Ergotron LX Wall Mount to support my 22-inch Gateway display. This mount is rock-solid and can flex just about any way you can imagine-I can easily raise and lower the display, or rotate it if I want to view it from different angles, such as a couch I have on the left side of my office. The display can rotate 90-degrees if I want to go into portrait mode. I have both VGA and DVI cables plugged into the monitor so I can have it plugged in to any two notebooks at a time and quickly switch between them. The Ergotron LX Wall Mount is anchored into my wall with two 1/4-inch lag bolts to make sure it stays put in case of an earthquake.
I can reach any of the computers as they're setup now, or I can roll my chair down the line if I need to work for an extended period. I also can pair my bluetooth keyboard and wireless mouse with any of them.
I'll rotate notebooks on and off of my desk, but I'm pretty happy with the current setup. I have a netbook, tablet, mainstream 15-inch and a 17-inch workstation at my disposal. I also have ready access to Windows XP, Windows Vista and Mac OSX.
Advertisement