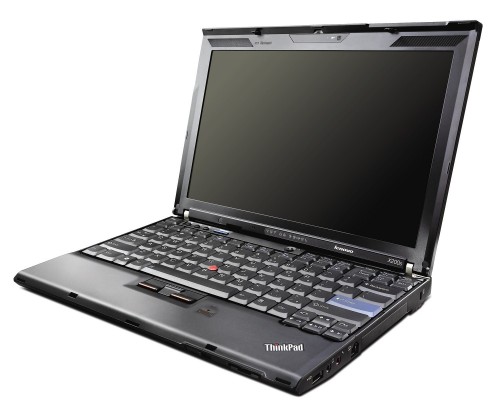 Lenovo's introduced the ThinkPad X200s, a lightweight business notebook for business travelers and the X200t,the first widescreen ThinkPad tablet. Tom Ribble, the director of worldwide ThinkPad marketing, called me this morning to talk about the latest additions to the ThinkPad family.
According to Tom, the X200s is about as thin as the ThinkPad X300. Optimized for professionals on the move, the X200s can run for up to 13.2 hours with an extended 8-cell battery.
The ThinkPad X200t will replace the X61t. The new X200t has a maximum runtime of 10.5 hours with the optional 8-cell battery. It features many improvements over the X61t including improved inking sensitivity, an optional webcam and stereo speakers. Lenovo's also improved touch sensitivity and palm rejection. The display now swivels in either direction.

update:Our friends over at GottabBeMobile got their hands on a ThinkPad X200t prototype:

Both the ThinkPad X200t and X200s can be configured with up to 4GB of RAM and the latest Intel Core 2 Duo low-voltage and ultra low-voltage processors.
The X200t and X200s will have a full range of 2.5-inch storage solutions, including 64GB or 128GB solid state drives, up to 320GB 5400 rpm drives or up to 160GB high-speed 7200 rpm drives. This breadth of drive options is lacking from several of Lenovo's competitors' thin and light systems, which often use 1.8-inch drives that spin as low as 4200rpm.
Lenovo also introduced a new Ultrabase that will be compatible across the ThinkPad X200 product line. The Ultrabase can be outfited with an optical drive (DVD or Blu-ray Disc) or a second hard drive. It can also charge a second battery.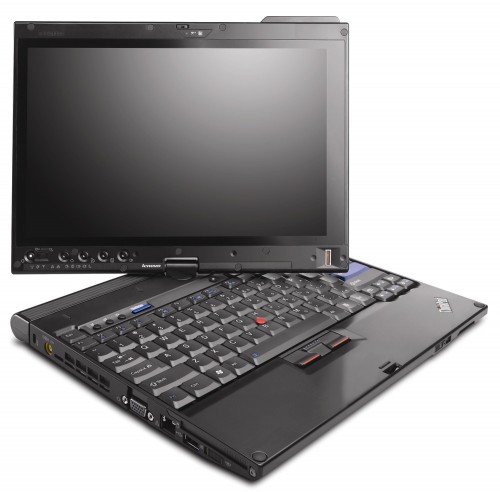 Business notebook manufacturers have been bragging a lot about long runtimes lately, but as with other manufacturers you'll have to shell out a steep premium to get the maximum runtimes of 13.2 and 10.5 hours that Lenovo claims. According to Lenovo, Pricing for optimized models of the ThinkPad X200s notebook starts at $2,242 and the ThinkPad X200 Tablet starts at $2,323. Much of that cost is due to still expensive SSD prices. The best bang for your buck in terms of battery life improvement is to opt for LED displays, which improve battery performance by about 20% compared to notebooks with LCD displays.
The X200s and X200t will be available from Lenovo.com and business resellers starting next week.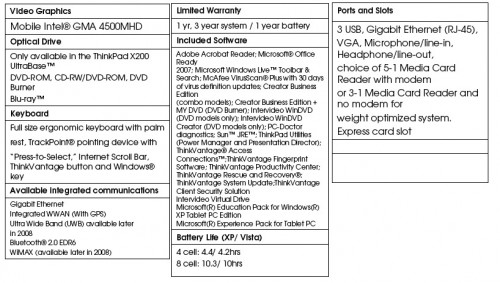 ThinkPad X200s Specifications
Processors
Intel Core 2 Duo, SL9400, SL9300, SU 9300
Operating System
Vista Home Basic 32, Vista Home Business 32, 64, Vista Ultimate 32, Vista Home Premium 32
Hard Drive
80, 160, 250, 320 GB/5400 rpm
100, 160 GB/7200 rpm
200 GB 7200 rpm full disk encryption
64, 128 GB SSD
Memory
Up to 4 GB 1066 MHz DDR3 memory
Wireless/Connectivity
Intel WiFI link 5100, 5300
WiMAX.WiFi link 5350
ThinkPad 11b/g wireless LAN Mini PCI
ExpressCard Adapter III
Gigabit ethernet
Ultrawide band
Bluetooth 2.0
WiMAX models available later in 2008
Security
Standard: ThinkVantage Client Security with Password Manager, TPM 1.2 chip, BIOS disable of all ports
Optional: integrated Fingerprint Reader, Smartcard reader, full-disk encryption HDD, optional Softex Omnipass and Ultimaco Safeguard Easy
Other
Optional: integrated digital mic, security cable slot, select models feature next-generation ThinkPad Roll Cage
Dimensions
4 cell: 295X210X20.7-28.7mm
6 cell: 205X210X20.7-35.3mm
9 cell : 295X210X233.8X20.7-35.5mm
Weight
2.43 pounds (4 cell), 2.71 pounds (6 cell), 3.05 pounds (9 cell)
Display
12.1 in WXGA CCFL backlit display (1280X800)
12.1 in WXGA + LED backlit display (1440X900)
Graphics
Mobile Intel GMA 4500 MHD
Optical Drive only available on ThinkPad X200 Ultrabase, DVD-ROM, CD-RW/DVD-ROM, DVD burner, Blu-ray
Limited Warranty
1 yr, 3 year system / 1 year battery
Included Software
Adobe Acrobat Reader; Microsoft® Office Ready
2007; Microsoft Windows Liveâ"¢ Toolbar & Search; McAfee VirusScan® Plus with 30 days of virus definition updates; Creator Business Edition
(combo models); Creator Business Edition +
MY DVD (DVD Burner); Intervideo WinDVD (DVD models only); Intervideo WinDVD Creator (DVD models only); PC-Doctor diagnostics; Sunâ"¢ JREâ"¢; ThinkPad Utilities (Power Manager and Presentation Director); ThinkVantage® Access Connectionsâ"¢;ThinkVantage Fingerprint Software; ThinkVantage Productivity Center; ThinkVantage Rescue and Recovery®; ThinkVantage System Update;ThinkVantage Client Security Solution
Battery Life XP/Vista
4 cell:4.4/ 4.2hrs
6 cell:8.8/ 8.3hrs
9 cell: 13.2/ 12.5hrs
Ports and Slots
3 USB, Gigabit Ethernet (RJ-45),
VGA, Microphone/line-in, Headphone/line-out,
choice of 5-1 Media Card Reader with modem
or 3-1 Media Card Reader and no modem for
weight optimized system.
Express card slot
Advertisement