WaterField Designs, makers of premium notebook, tablet and cell phone cases is now offering Samsung Galaxy Tab cases. They have five different styles available.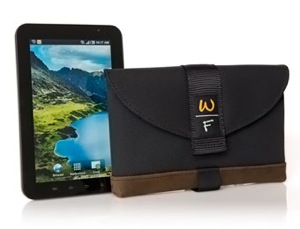 Tablet Ultimate SleeveCase or EXO SleeveCase
The Ultimate SleeveCase is a cushioned neoprene case with ballistic nylon around it. It protects the tablet as a stand-alone case or can be inserted into another bag. It has leather trim and velcro flap. It costs $49 or $54 with brown leather. Optional straps are also available for either $5 or $9 extra.
Another option is the EXO SleeveCase which looks just like the Ultimate SleeveCase only it is bigger and is intended to carry the tablet while it is inside a more form-fitting case. It is $45. With the brown leather trim it costs $5 extra. Two strap options costs either $5 or $9 extra.
These cases look exactly like the excellent Laptop SleeveCase we previously reviewed. Below is the company's demo video of both cases:
Tablet Slip Case and Suede Jacket Case
The Tablet Slip Case is a form-fitting case made of a water proof material on the outside and an internal padding. It is $27 and comes in black, blue, green and red.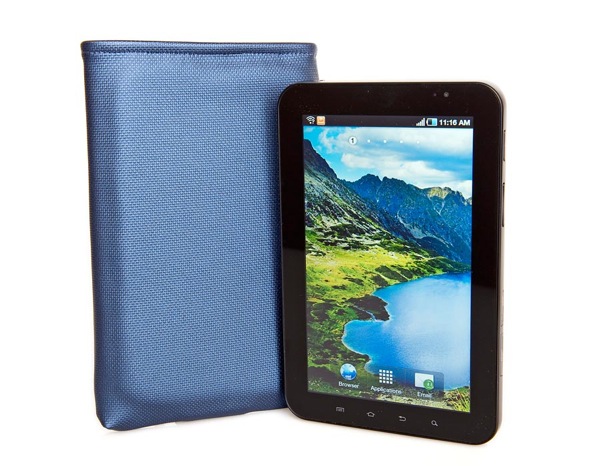 Below is the company's demo video:
The Tablet Suede Jacket case is also a form-fitting case made of an Ultrasuede material. It is $14 or $19 with a pocket. It is very thin and would be a great case to go along with the EXO Sleeve Case above. It comes in one color – black. It is like the slip case but without the external neoprene layer.
Tablet Travel Case
Finally, the Tablet Travel Case is designed for those who want to carry their Samsung Galaxy Tab and its accessories. It has a zipper to secure everything inside the padded pouch. With the Tab and a few accessories like the charging cable, screen cloth and other items, it is still very small. It comes in blue, green, black and red for $49 and a $9 shoulder strap is also available.
Advertisement