Best Buy has the Sony VAIO VPCEE22FX/WI notebook bundle available just in time for the back to school season for $899.97. The Sony VAIO VPCEE22FX/WI is a Best Buy Exclusive and is part of the Sony VAIO line of notebooks.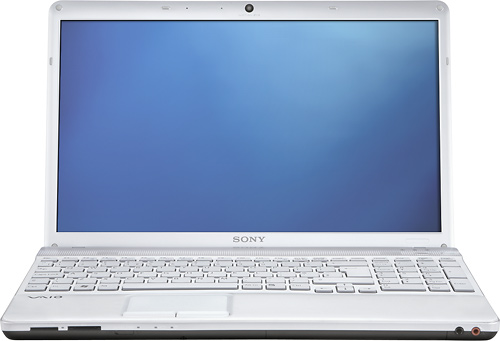 The Sony VAIO VPCEE22FX/WI features an AMD Turion II processor, a 15.5-inch display, 4GB of DDR3 RAM, a 320GB hard drive and ATI Mobility Radeon HD 4250 graphics. Additionally, for those college students into gaming, the notebook also comes with a 120GB Sony PlayStation 3, as well as a Targus A7 Slipcase and USB optical mouse. For most students, this bundle has it all.
This is a mid-range notebook because it contains one of the latest AMD processors, DDR3 RAM, and ATI discrete graphics. With these components, the Sony VAIO VPCEE22FX/WI could handle most tasks that students may need it for. Normal use, such as web browsing and email, will not be an issue for this notebook. Composing documents in Microsoft Office, photo editing, and casual gaming should work just fine as well. However, when gaming, you may need to turn down the games settings a little bit so the picture doesn't appear choppy or pixellated. Though it does have discrete graphics, the ATI graphics chip is built for mobile use and is not quite as powerful as some graphics solutions. Then again, modern gaming is what the PlayStation 3 is for, so this is negligible.
One downfall to the Sony VAIO VPCEE22FX/WI is the fact that it is a large notebook. Weighing in at 5.9 pounds and being 1.5-inches thick takes it out of the ultra-portable category. Also, if you really don't care for the PlayStation 3 you could save $300 by choosing a similarly equipped laptop. One alternative would be the Sony VAIO VPCEB23FM/BI, which is priced at $679. It sports very similar specs, but has integrated graphics instead of discrete. It's nearly a half pound lighter than the Sony VAIO VPCEE22FX/WI and about 0.3″ thinner.
On the plus side, the Sony VAIO VPCEE22FX/WI comes with a PlayStation 3. Aside from that, the notebook features island style keys, a dedicated numeric keypad great for excel spreadsheets, and a sleek silvery white finish.
Though this is a great notebook for students and comes with an attractive bundle, there aren't a whole lot of savings to be had by purchasing this as a bundle. In fact, you are really only saving yourself $30 by purchasing everything together. You may be better off buying a notebook that you really want, and a PlayStation 3 separately. This way you could also buy the notebook bag and mouse that fits you.
Sony VAIO VPCEE22FX/WI From Best Buy Detailed Specs:
Brand
Sony
Model
VAIO VPCEE22FX/WI
Operating system
Windows 7 Home Premium 64 Bit
Processor / Graphics
AMD Turion II 2.3GHz

ATI Mobility Radeon HD 4250

Memory
4 GB DDR3 RAM
Hard drive
320 GB HDD 7200 rpm
Display / Resolution
15.5″ widescreen display
Removable Storage
Double-layer DVD±RW/CD-RW
Wireless Support
Wireless-B+G+N
Input Devices
Full-size keyboard, dedicated numeric keypad, electrostatic touchpad
Power
6-cell battery
Memory card reader
Multimedia card reader
Ports
Headphone/speaker/line-out jack, Microphone-in jack, DC-in jack for AC adapter, Ethernet, 4 USB 2.0, HDMI out, VGA
Audio
Internal speakers
Weight
5.9 lbs.
Dimension
14.6 in x 1.5 in x 9.8 in
Webcam
MOTION EYE webcam w/ face-tracking technology
Warranty
1-Yr Parts and Labor
Advertisement