A new iPhone Application called NetShare now makes it possible to share your iPhone's data connection with your notebook. NetShare turns your iPhone into a WiFi hotspot that you can use to get your notebook online wherever you have 3G coverage.
To get started, you'll need to purchase NetShare for $9.99 from Apple's App Store. It was first available on 7/31/08, but it was pulled down just minutes after launching. It's up again, but here's no telling if it's here to stay or not. Carriers typically charge extra for allowing subscribers to use their 3G-enabled phones as modems for their notebooks and may pressure Apple to remove this application fro the App store permanently. I recommend buying NetShare while you can.
Once you install NetShare on your iPhone you'll have to spend some time setting up network preferences on both your notebooks and your iPhone. The makers of NetShare include instructions in the application on how to do this assuming you're using a MacBook. Falaris put together instructions on how to use NetShare on Windows XP notebooks.
Tethering your iPhone 3G is no replacement for a 3G data card for your notebook if you're a heavy user though. One limitation is that while you're using your iPhone as a modem you won't be able to make callls.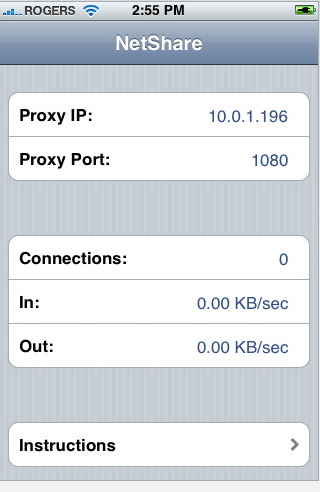 Advertisement