Microsoft has just launched Internet Explorer 9, the company's latest web browser, which has a collection of new features including the ability to pin web pages to your Windows 7 Taskbar and is offering a collection of deals to users who try out the new Jump List feature in IE 9.
Once pinned to your taskbar, the pages act more like a program than a webpage, delivering a unique look and the ability to right click and access actions from the jump list. These deals can only be accessed through Internet Explorer 9, which is available as a free download.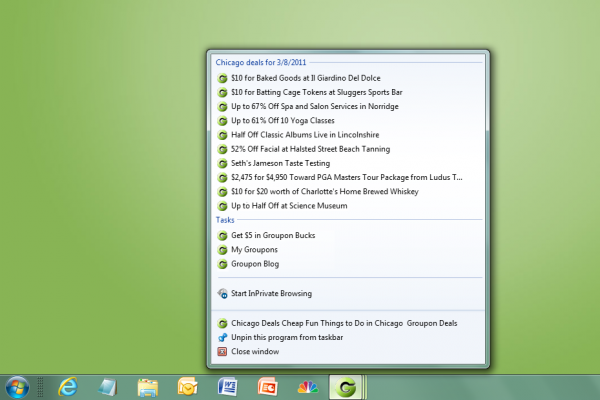 Internet Explorer 9 Jump List Deals
The deals from Hulu Plus, eBay and other websites are designed to show off the new Taskbar integration and as such can only be accessed by pinning the website to the taskbar.
The current Windows 7 Jump List deals include:
Groupon – Purchase a deal through the Jump list and receive $5 in Groupon Bucks
GILT Groupe – purchase $250 from Gilt to receive a free Xbox 360 4GB Standard Console, Samsung Focus with Windows Phone 7, or Xbox 360 Kinect 4GB Console Bundle
Slacker – a free month of Slacker Radio Plus
Hulu – a free month of Hulu Plus (Starts March 28th)
eBay – 8% extra eBay bucks in April and $5 discount in May for users coming from the Jump List.
These deals are a nice way to learn about the new features in Internet Explorer 9, but more than that, they are just really good deals. The Gilt deal has us contemplating a wardrobe upgrade and we are already looking forward to our Slacker and Hulu free trial months..
How to Pin a website to Your Windows 7 Taskbar with Internet Explorer 9.
We showed you how to use the Taskbar Jump List feature in our Internet Explorer 9 Review, but we'll also give you the details here so that you can start saving. The Hulu Plus offer won't start until March 28th, but you can start taking advantage of the other deals right away.
Step 1. Visit Hulu.com in Internet Explorer 9.
Step 2. Click and hold on the Hulu tab.
Step 3. Drag it down to the Windows 7 Taskbar.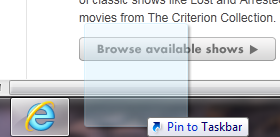 Step 4. When it prompts you to "Pin to Taskbar" let go of the tab and it will be pinned to your Taskbar.
Step 5. Right click on the icon to see your jump list as shown below. Hulu's offer isn't live yet, but you can get access to other offers from Groupon, Gilt and Slacker right away.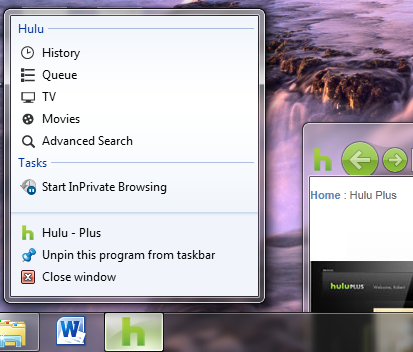 If you want a more visual example, check out this how to video from labnol:
Advertisement