A couple of hours after posting some pics and videos of the MacBook Air at MacWorld I got a text message alert that my wife had just updated her status on Facebook to "…secretly hopes Xavier gets the MacBook Air." Not wanting to disappoint her, I headed over to Apple.com and ordered one, which should arrive in a couple of weeks.
There are more computers and gadgets clogging my home office and living room than I can count, and I hear about this problem on a daily basis. It takes a LOT for my wife to actually encourage me to pick up a new device. Now she didn't exactly force me to buy a MacBook Air, but any hint that she wants me to buy a gadget is a far cry from her usual reaction when I even suggest that I'm going to add to my stable of electronics.
Like I mentioned before, I don't consider the MacBook Air an ideal primary notebook for power users, but it will make a fine secondary MacBook in our household. I do all of the heavy-lifting on my MacBook Pro and the various PC notebooks that float in and out of here.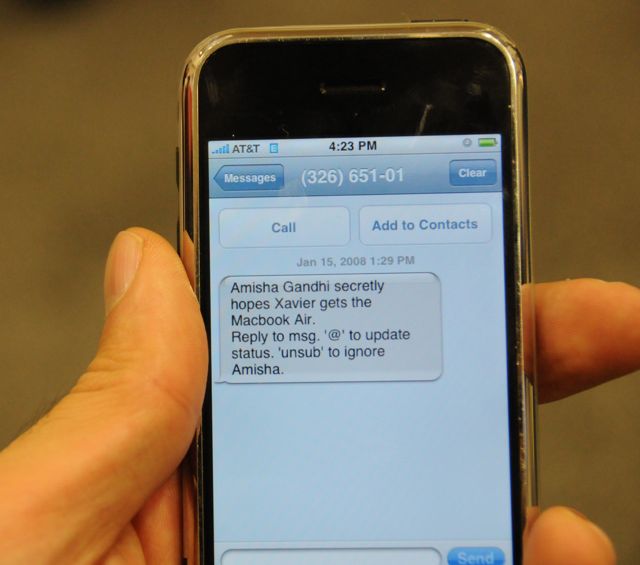 I think she wants the MacBook Air even more than she's letting on. About five minutes after the MacWorld keynote she called me while I was in line in front of the exhibit hall. She asked me if I was going to be getting a MacBook Air. I rushed her off the phone because I was sure she was calling to warn me against buying one and I hadn't made up my mind yet. I didn't feel like having a 'discussion' about a computer I wasn't even sure I was going to buy.
This morning I wrote that I 'might' get one of these, but there were a lot of things that I didn't like about it. There are two primary reasons why I decided to order one this afternoon. The biggest reason is because my wife wants one. The second reason is because the MacBook Air is sexier than any other notebook on the market.
I was one of the first to buy the Titanium PowerBook G4 when it was launched seven years ago and when I brought it out in public jaws dropped and people crowded around me and begged to touch it. I've never had a similar reaction to ANY other notebook since then, but I have a feeling the MacBook Air will draw a crowd.
I didn't bother to consider my wife's point of view on the MacBook Air until I got her Facebook status update. But then I started thinking about how this new Mac will appeal to women. It's slim enough to throw in a purse, is stylish and has very few cords, which creates clutter.
The new MacBook Air is going to be a hit amongst my wife's peers- professional women who are sick and tired of lugging around ugly a** notebooks. The AC adapter for my wife's new work computer (Compaq 8510w) weighs 1.54 pounds, which is more than half the weight of the MacBook Air.
In case you're wondering, I ordered a pretty stripped down version of the MacBook Air with a 1.6GHz Intel Core 2 Duo processor and 80GB hard drive. I added iWork '08 and the optional USB/Ethernet adapter. If you are going to get the MacBook Air, I'd suggest going with the 1.6GHz/80GB combo. The 64GB solid state drive is $999 extra, which is too much for at least 99.9% of users to justify. The 1.8GHz processor is $299 extra and most users won't be able to tell the difference between it and the 1.6GHz processor for the tasks they'll be performing on the MacBook Air.
Advertisement