Sony introduced the Graphic Splash Eco Edition FZ notebook today. The Caribbean Water, Clay Earth, Spotted Life and Bloom designs express your dedication to the environment. Sony is donating 1% of the proceeds of each sale to 1% For the Planet.
The Graphic Splash Eco Edition VAIO FZ notebooks are priced at $1,339 at SonyStyle.com. The VGN-FZ290 comes with 1GB if RAM, 200GB hard drive, dual-layer DVD burner and a 2GHz Intel Core 2 Duo Processor. Graphics are powered by a NVIDIA GeForce 8400M GT GPU.
Sony is offering rebates to those interested in trading in used computers. Credits can be used towards the puchase of a new VAIO.
Eco-conscious features of the VAIO Graphic Splash Eco Edition:
* Slim design for minimum use of natural resources
* Easy-to-recycle materials for resource conservation
* Packaging comprised primarily of recyclable materials
* RoHS compliant componentsâ€â€Â free of hazardous materials such as lead
* Free recyclingâ€â€Â Sony branded products (www.sony.com/recycle)
* Rechargeable battery recycling program offered at Sony Style stores and participating
Graphic Splash Eco Edition FZ notebook Product Page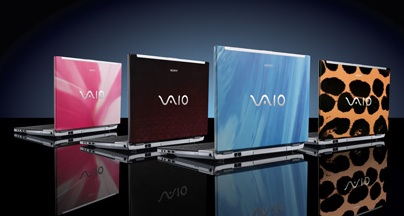 Advertisement