Today marks the 15th anniversary of the ThinkPad notebook. More than 30 million ThinkPads have been sold in 160 countries since 1992, and becoming the notebook of choice for some of the biggest companies in the world.
âہ"This anniversary is not only a testament to the unparalleled design and craftsmanship of the ThinkPad but it also speaks volumes to the legions of ThinkPad enthusiasts that have been with us for so many years,â€Â said Fran O'Sullivan, senior vice president, Lenovo Product Group. âہ"The ThinkPad notebook is our flagship product, but more importantly, it's also a proven personal tool for millions of customers that depend on their ThinkPad to achieve great things.â€Â
Lenovo says the ThinkPad's black was first brought to life by a group of ten leading designers and engineers from around the world. The design was inspired by by the Shōkadō bentō — a traditional black-lacquered Japanese lunch box — and an IBM-issued employee pocket notebook with the corporate motto 'Think' imprinted on the cover.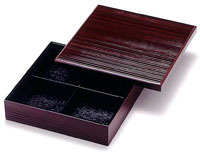 "Over the past 15 years, the ThinkPad notebook PC has been the industry leader in innovative design with a track record of productivity enhancements that set the standard business customers have come to expect worldwide,â€Â said Scott Di Valerio, corporate vice president, OEM division at Microsoft. âہ"Since its inception, the ThinkPad has taken advantage of the Windows operating system and we are committed to continue our work with Lenovo to deliver innovations to customers by optimizing both Windows and the Office productivity suite of software.â€Â
The ThinkPad's been the first to include several technologies and features including:
*First notebook PC with integrated CD-ROM/DVD ROM
*First ThinkLight, a "nighttime" light to illuminate the keyboard
*First notebook PC with integrated Wi-Fi certified wireless LAN
*First sub-three pound notebook PC with full-sized keyboard
*First notebook PC with an embedded security chip
*First notebook PC with hard drive "'air-bag" protection
*First notebook PC with protective roll cage
*First notebook PC to feature an integrated biometric slide fingerprint reader
*First notebook PC with an extended battery life of up to 11 hours
Advertisement