Fujitsu's getting into the external portable storage game with a 300GB 2.5-inch drive. Billed as the world's highest capacity portable hard drive to date, the Fujitsu External Hard Disk Drive comes with backup and encryption software.
"We are proud to launch the world's highest capacity 2.5″ External HDD product into the marketplace at a time when consumers are demanding more storage, compact designs, and features that advance the level of data security," said Lorne Wilson, senior vice president, sales and marketing, Fujitsu Computer Products of America, Inc. "Fujitsu has almost forty years of experience in the hard disk drive industry, and we have successfully expanded our 2.5″ HDD business over the last fourteen years. As a result of our focus and commitment to R&D, we have been able to leverage our expertise in this field to create an ideal solution for portable backup and storage solutions."
This is yet another great device to backup all of your precious files. The Fujitsu External Hard Disk Drive 300GB/4200RPM is available for $229, while the 120GB/5400RPM version for $129.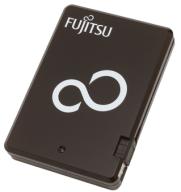 Advertisement