Verbatim has a USB flash drive that is aptly named the Tuff-N-Tiny USB drive. As thin as a penny and not much longer than the diameter of a single cent it holds up under some pretty good punishment and keeps storing those bits of data. To call it a thumb drive would be to misstate the facts. It is more like a "thumbnail drive" thanks to how small it is. However, this runt can take a beating.
We got one from Verbatim and loaded it up with some files and then punished it. Test one involved burying it in some dirt. We didn't just drop it in dirt or make a nice little hole and delicately push the dirt in on top of the drive. We pushed the thing into the ground hard and fast like a knife and stomped it in further with a foot. Next we threw it on the ground a few times and stomped on it some more. This was on blacktop, not soft grass either. After cleaning the drive off we dropped into the kitchen sink with some dirty dishwater, rinsed it off and then dried it with a towel letting it sit for a little while. When the drive was fully dry and clean we inserted it into the USB port on a laptop and it was immediately recognized by Windows. We copied a few files to the drive, went to a MacBook Pro and copied the files back off the drive. No problems at all. It was fairly fast too. No faster than an average drive but no slower either. We were quite impressed.
We like having a tough and rugged drive that we don't have to worry about getting wet, dirty or scuffed. We also like that it comes with a tiny lanyard to fasten to a keychain so that we always have our Tuff-N-Tiny drive available. We recommend putting the lanyard on the drive and fastening it to something. It is really small and we lost the first one having to purchase a second for the review.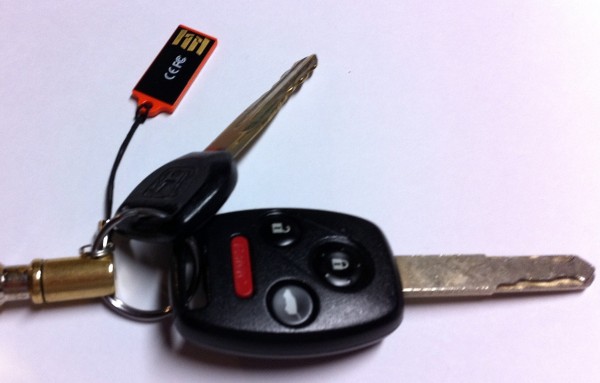 The drive has some security software making it possible to password protect your files (Windows only). The transfer speeds were as fast as any average USB 2.0 drive. It is compatible with Windows 7 and Vista. Even though the software doesn't work with OS X and Linux, the drive itself does. They come in sizes from 2GB up to 32GB with each size in a different color. They range in price from $22.00 to $158 if you buy them direct. Our replacement drive was purchased at Amazon for just $10.40. The 32GB model is only $73.70 at Amazon.
Pros:
As the name says: tuff and tiny
Convenient with keyring attachment
Comparable speeds to other USB drives
Small enough to carry on keyring without adding weight or bulk
Cons:
Security software is Windows only
Advertisement