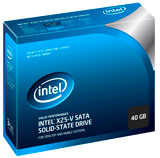 If you've been looking for storage with the ultimate speed to give your PC a boost, then you should check out an SSD. There are many manufacturers of SSDs, but Intel is one of the most well known makers and now you'll be able to buy Intel SSDs at Best Buy.
SSDs, or solid state drives, don't use the spinning platters that standard hard drives do but instead use a type of storage similar to the SD card in your camera to offer a faster, more reliable storage space with no moving parts.
Starting this week, over 800 Best Buy retail locations will sell the Intel X25 SSD drives in store for between $129.99 and $229.99 based on the capacity of the drive. These drives offer an affordable entry into the Solid State Drive arena and when used as your primary drive will offer speed improvements. According to Intel, "an Intel SSD delivers up to 56 percent improvement in system responsiveness for gamers, multimedia enthusiasts or anyone desiring to get more performance out of their new or existing notebook or desktop computer."
Intel SSD Adventure in Black Rock
Best Buy locations will sell the 80GB Intel® X25-M Mainstream SSD for $229 and the  40GB Intel® X25-V Value SSD for $129. These drives may seem small in terms of the storage sold with most notebooks these days, but they are meant to be the place where your operating system and program files are stored. An additional, standard hard drive can be used to hold multimedia and other large files.
In most cases, moving your old files to a new SSD is a straightforward and simple process as shown in the video below.
Advertisement