Built-in speakers are generally lousy, making headphones or external speakers a necessity to really enjoy your notebook's multimedia features. Most speaker sets require an AC adapter, but Logitech's V20 notebook speakers draw juice via USB, which makes them completely portable.
After using the V20 notebook speakers for a few days I was very impressed with sound quality and ease of use. A USB cable connected to the right speaker simply connects to your notebook's port and you're ready to go. There's a set of playback buttons on top of the right speaker so you can control song selection and volume easily.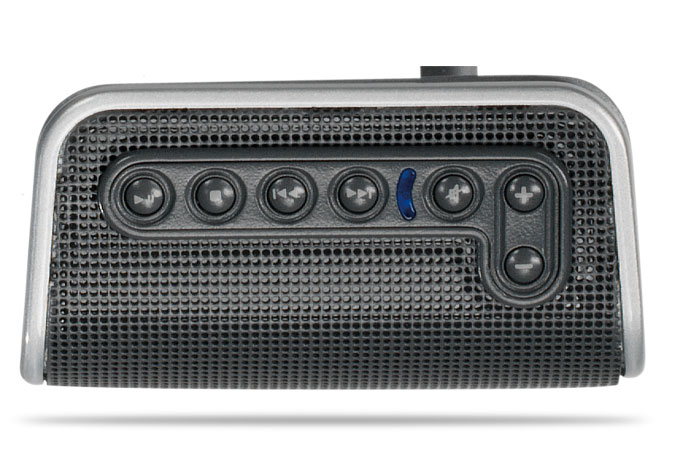 The left speaker is tethered to the right one with a three-foot long cable, which can be unplugged. I ended up using just the right speaker to listen to music in my bedroom. A single speaker is still far louder than any notebook's built-in speakers I've heard. The single speaker can easily fit in most notebook bags.
These speakers are loud enough to enjoy music or movies in any small or medium sized-room.The speakers are sound clear at normal listening volumes, but easily distort at higher volumes. If your music has a lot of bass you can only set the speakers to a maximum of 65%-75% before there is serious distortion. The distortion can be minimized by reducing bass levels in iTunes or whatever multimedia application you're running.
Keep in mind though that they main reason for buying the V20 speakers is for portability- if you're serious about sound quality, it's best to look at other solutions.
The speakers stand about six inches tall and have a small kickstand to support the speakers on your desktop. At 100% volume the kickstands don't keep the speakers very steady and the speakers will vibrate across your desk if there's a lot of bass. This can be really annoying if you often listen to music at a high volume.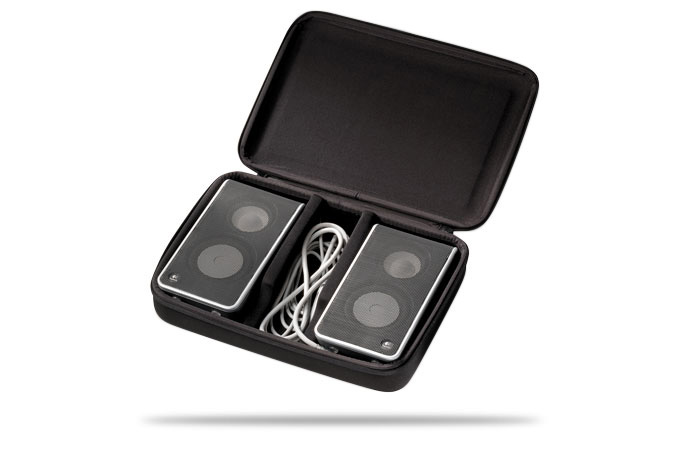 The included case is sturdy and form-fitted to the speakers. While the may look a little bulky, the total package weighs under two pounds. This is too big to carry around everyday, but small enough to throw in your luggage.
The Logitech V20 notebook speakers are a great option for users who want to listen to music outdoors and don't want to deal with AC adapters, but there are some limitations inherent with all USB speakers. They draw power from your notebook's battery so expect your battery life to take a hit. They also of course take up a USB port, which can create issues if you have lots of USB devices you need to sync or charge.
I recommend the V20 notebook speakers to users who are tired of tiny built-in speakers and don't want to deal with yet another power adapter. These speakers are simple to use and provide reasonable sound quality and volume.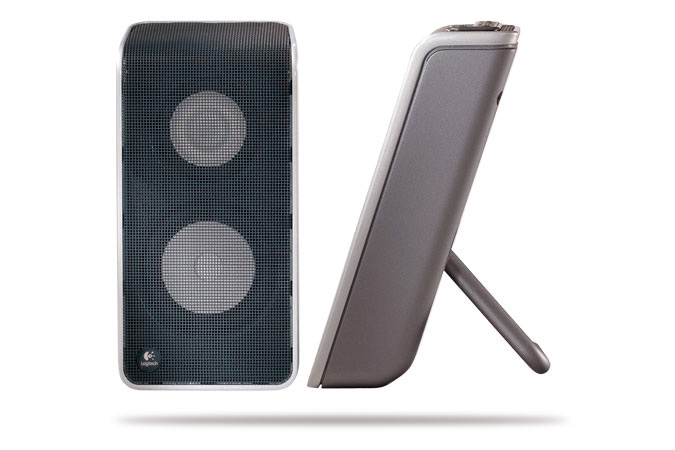 Advertisement