Palm, Inc. announced the Palm Foleo, a device that's designed to be a companion to Treos and other smartphones. The Palm Foleo has a 10-inch screen and full sized keyboard, but does not have all the functionality of a notebook computer. Palm hopes business people will leave their notebooks at home in favor of a Foleo/Treo combo.
"Foleo is the most exciting product I have ever worked on," said Jeff Hawkins, founder of Palm, Inc. and the visionary behind the Foleo's concept and definition. "Smartphones will be the most prevalent personal computers on the planet, ultimately able to do everything that desktop computers can do. However, there are times when people need a large screen and full-size keyboard. As smartphones get smaller, this need increases. The Foleo completes the picture, creating a mobile-computing system that sets a new standard in simplicity."
The Palm Foleo runs on a Linux operating system and it has some nice features including instant-on capabilities. The Foleo comes with a WiFi connection so it can be used to browse the web without a smartphone present.
I've enjoyed using Palm Pilots and Treos for the past 10 years, but I can't imagine ditching my notebook in favor of a Foleo. It's great to see Palm offering more options, but virtually all smartphone users also use notebooks. Adding a Foleo to the mix means they'd have to manage three devices on a daily basis. The Foleo will only cost $499, but I think more users will opt for a fully-functioning notebook or UMPC for a few hundred dollars more.
Check out Palm Inc. CEO's pitch and decide for yourself.

It will be interesting to see how successful the Palm Foleo is and what applications are developed for it.
Primary Capabilities and Attributes of the Foleo Mobile Companion
— One-button access to full-screen email
— Instant on, instant off
— Rapid access to various applications
— 10-inch screen and full-size keyboard
— Web search and browsing via Bluetooth or Wi-Fi
— Editors for Word, Excel and PowerPoint, plus a PDF viewer
— Compact, stylish design that fits on an airline tray table
— Lightweight at 2.5 pounds
— Fast, simple and intuitive navigation
— 5-hour battery life
— Linux OS for easy application development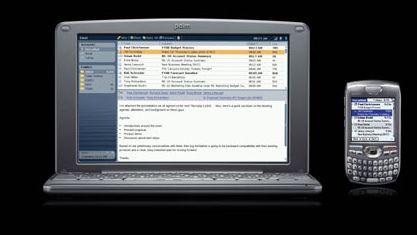 Advertisement