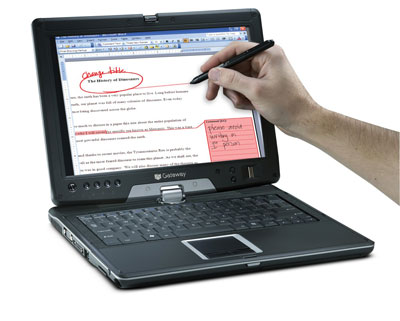 Gateway is officially unveiling a thinner, lighter convertible notebook tomorrow called the Gateway E-155C. At 4.5 pounds, the 12.1-inch notebooks is one of the thinest and lightest convertibles with an optical drive.
The E-155C offers a much more compact form factor compared to Gateway's chunky CX210/M285 convertible notebook platform.
"Gateway has been leading the Tablet market with innovative products since 2002, and this product rounds out our portfolio, giving customers a family of Convertible Notebooks from a single provider," said Ray Sawall, Gateway's senior manager of mobile computing. "The Gateway E-155C's touch-screen and digital pen capabilities powered by leading-edge hardware and Microsoft Windows Vista add the flexibility that makes Tablet computing so effective in non-traditional environments, such as learning labs, meetings, the sales field, and anywhere customers learn, work and live."
The Gateway E-155C features Intel Core 2 Duo ULV Processor U7500 (1.06 GHz), WACOM digitizer, Firewire port, up to 120GB hard drive and an 8x DVD burner. One new feature for Gateway is an ambient light sensor that detects the light atmosphere and adjusts the display brightness.
The E-155C is definitely on the pricey side, with configurations starting at $1,849 aimed at corporate and education clients. In early May, Gateway will offer a version of the product for home and home office customers, the Gateway C-120X, which will be priced starting at $1,499.99.
It will be interesting to see how Gateway continues to compete in the tablet market. The company had been taking a one-size-fits-all approach with their 14.1-inch convertibles, so it's good to see they're expanding their portfolio.
There is some stiff competition from Lenovo. The X60 Tablet at similar price points and arguably tougher construction. Other major manufacturers will be announcing compact tablets in the coming weeks that will make Gateway designers' heads spin.
Gateway E-155C specs after the jump
What you get for $1,849:
 Processor: Intel Core 2 Duo ULV Processor U7500 (1.06 GHz, 533MHz FSB, 2MB L2 Cache)
Trusted Platform Module: TPM – Embedded security chip for user authentication and data protection (version 1.2)
 Memory: 1024MB 667MHz DDR2 SDRAM (2-512MB modules)
Hard Drive: 60GB 5400rpm Serial ATA hard drive
6-in-1 media card reader: (Memory Stick, Memory Stick Pro, MultiMediaCard, Secure Digital, Mini Secure Digital, RS-MultiMediaCard)
Optical Drive: Integrated 24x/24x/24x CDRW / 8x DVD Combo Drive
Expansion Slots: One type II PC card slot
External Ports: (2) USB 2.0, VGA, IEEE 1394 (FireWire)
Screen: 12.1-inch display
Video: Integrated Intel Graphics Media Accelerator 950
Keyboard and Mouse: 83-key keyboard and EZ Pad pointing device
Digitizer Pens: Gateway executive stylus pen w/ eraser and 5 replacmeent tips (WACOM)
Multimedia Package: Integrated stereo speakers, embedded array microphones, headphone/speaker jack, and microphone jacks
Battery: Primary 4-cell Lithium ion battery with AC pack and 1 yr. limited battery warranty
Modem: Integrated V.92 56K modem
Network Adapter: Integrated Intel 10/100/1000 Ethernet adapter
  Integrated Wireless Networking Adapter: Integrated Intel 3945 802.11a/b/g wireless networking card
Extended Service Plan Including Limited Warranty: Notebook Value Service Plan — 3 year part/labor/no on-site/3 year technical support subtracted: US $100.00
Additional Software: Adobe Acrobat Reader 7.0
Personal Productivity: Microsoft One Note, Microsoft Experience Pack and Microsoft XP)
Education Pack (for Windows
Operating System: Genuine Microsoft Windows Vista Business Edition added: US $0.00
 Operating System Software Backup Media: Genuine Windows XP Tablet (SP2) Backup CD
 Drivers Backup Media: E-155C Drivers and Applications CD
 Application Software: Microsoft Works 8.5
 Security Software: Symantec 90-day subscription
Advertisement