Whether Microsoft's Windows 10 operating system is the best upgrade to ever make it out of the company's Redmond, Washington headquarters remains up for some debate. Whether the Dell XPS 13 is the best notebook you can buy running Windows 8.1 isn't. Priced at $799 to combat Apple's MacBook Air, the XPS 13 has decent processors, a ridiculously thin profile and a screen that has to be seen to believed. The Dell XPS 13 is the best notebook you can buy right now.
Therefore, it stands to reason that Microsoft would want to show off Windows 10 on the Dell XPS 13 as much as it possible can. Notebooks.com had some time to try the Dell XPS 13 running Windows 10 this week. All told, the upgrade makes doing a lot of things on the XPS 13 easier, though there are some pretty obvious hardware caveats.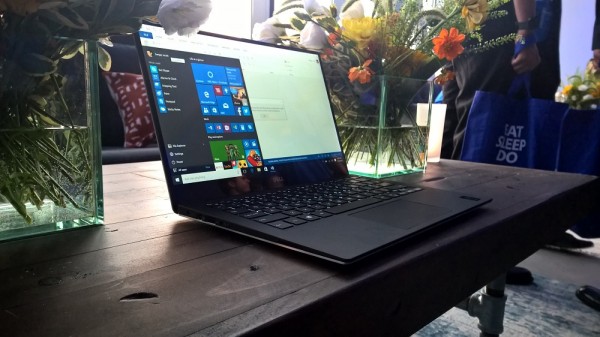 Dell XPS 13 with Windows 10 Impressions – The Good
Dell designed the XPS 13 to be light, durable and easy on the eyes. There's clean lines everywhere, with an aluminum shell running on the outside of the machine. Sandwiched between these metal covers are carbon fiber surfaces and a widescreen 13-inch display that's almost borderless.
I feel superficial for saying this, but the first thing I noticed on the XPS 13 at Microsoft's Windows 10 Fan Celebration was how well the lack of a Start Screen complimented it. For years, mouse and keyboard users got by on Windows with just a Start Menu that popped-up in the bottom-left corner by default. Windows 10 lets users choose between having a Start Menu or a Start Screen, by default the Start Menu is what users see on the XPS 13.
Read: 10 Things to Love About Windows 10
Aesthetically, I found Windows 8.1 to be a bit goofy looking on the XPS 13. The spacious screen highlighted how much wasted space there was in Microsoft's Windows Store apps. Windows 10 treats apps downloaded from its store like programs. You can resize their frames and easily get up to four different apps going at the same time. Microsoft calls this Snap and there's plenty of screen real estate for it on the XPS 13.
The Dell XPS 13 spacious trackpad was another highlight of its designed. Slick to the touch, it was often easy in Windows 8 to accidentally trigger the one of Microsoft's confusing edge gestures while just trying to scroll down a page. Multitouch trackpad gestures that use two and three fingers are still available on the XPS 13 – I tried them without issue. Gone are the single finger gestures though. You'll no longer accidentally switch apps by swiping from left to right. Though not a specific issue with the XPS 13, it's something to note.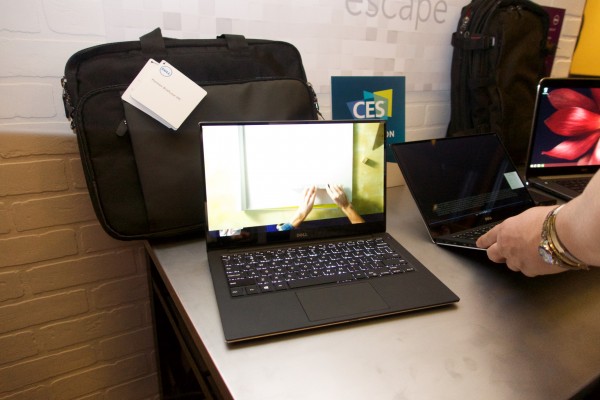 Apps work flawlessly, and there are no serious performance issues that I could find during my time with the machine. Dell and other hardware makers have had months to create drivers for their machines. Dell seems to have taken Microsoft up on that opportunity. You'll have a great Windows 10 experience on the XPS 13.
Dell XPS 13 with Windows 10 Impressions – The Missing
This isn't to say that you'll necessarily have the best Windows 10 experience you possibly can. There is a feature in Windows 10 that do requires new hardware. Microsoft worked together with hardware partners to get Windows 10 out to users before the Back to School shopping season. Instead of introducing a new wave of PCs built around new features, some of these partners opted to include hardware on their Windows 8.1 systems that would integrate well with Windows 10.
Windows Hello is a new security feature that lets users login to their PC – and soon websites – using just their gaze or a finger. New Dell notebooks are launching with an Intel RealSense camera to take advantage of Windows Hello. Dell chose not to add a RealSense camera in the XPS 13, leaving  owners and buyers to purchase a standalone Intel RealSense camera if they're desperate to take advantage of Windows Hello. The XPS 13 doesn't include a fingerprint reader either. For some, this won't be a big deal. Others might want to look elsewhere if they're really desperate to stop using a password.
More expensive Dell XPS 13 notebooks come equipped with a touchscreen. This allowed users to interact with them like a tablet even though their displays couldn't flip. Windows 10 introduces Continuum, a software feature for switching in and out of Tablet Mode automatically. The Dell XPS 13 model I played with allowed users to toggle Tablet Mode even though it can't be used as a pure tablet.
Dell XPS 13 with Windows 10 Impressions
I walked away from the Dell XPS 13 running Windows 10 impressed. The changes Microsoft made to the operating system do compliment the machine pretty well.
Read: How to Get the Free Windows 10 Upgrade
Every machine running Windows 8.1 and Windows 7 can be upgraded to Windows 10 for free. Dell has more about that upgrade program on its website here.
Advertisement