Most Chromebooks come in two small sizes, 11.6-inch and 13.3-inch screens. The Acer Chromebook 15 CB5-571-362Q sports a huge 15.6-inch display with a full 1080p resolution. That makes quite a difference for the right user who doesn't like small and tiny and doesn't need ultra-portable, but who will find the simplicity and speed of ChromeOS useful.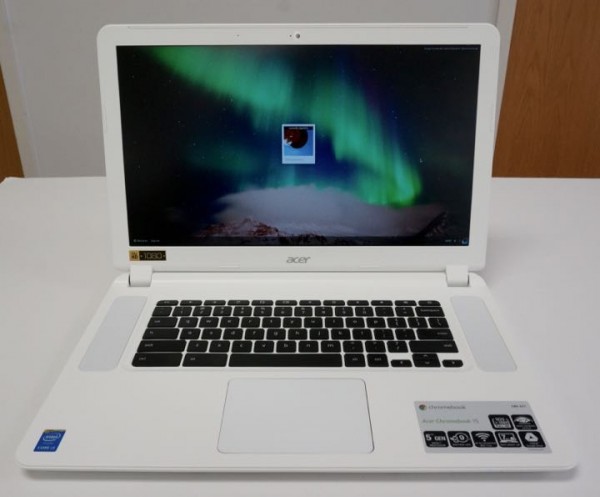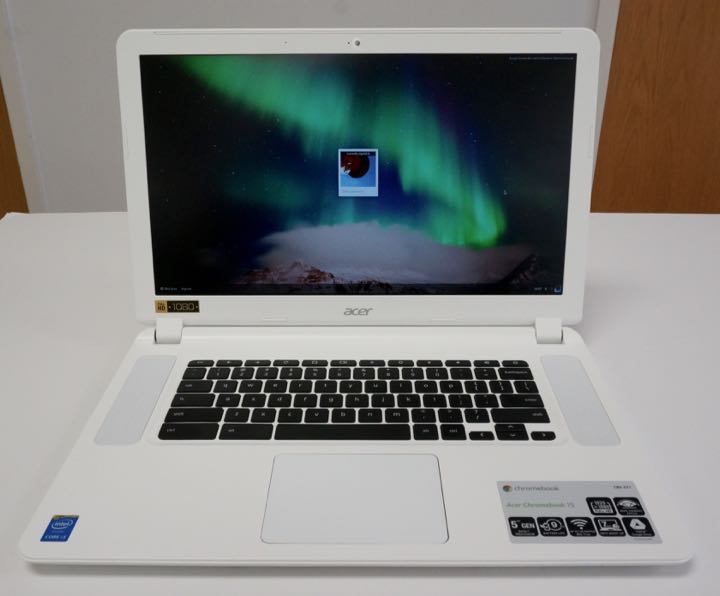 Acer Chromebook 15 Quick Review
Pros

Performance
Display size
Display resolution is full HD
Large trackpad
Large spacious keyboard
Awesome battery life
Better than average speakers

Cons

Heavy
Not very portable
Dim display
We're seeing the Chromebook mature into a popular tool among educational users, budget-minded students, business people and the average consumer with simple web-centric lives. However, it seems that manufacturers follow the same formula for those users, whereas the Acer Chromebook 15 alters the focus in a few big ways, including size, screen resolution and power. As a result of these tweaks, people who like bigger and more powerful computers will love the high-end Acer Chromebook 15. The user who just wants an incredibly cheap computer to browse the Internet and type on Google Docs or stream some YouTube video will consider this machine and its $450 price overkill.
As a member of the crowd that loves high-end and doesn't mind paying extra for it, I think the Acer Chromebook 15 is bigger and better.
Acer Chromebook 15 | $449.99 | Chromebook

The Competition
Acer Chromebook 15 Video Review
Here's the video review.
Acer Chromebook 15 Design
The Acer Chromebook 15 comes in two colors, black and white. It uses a strong plastic with a textured lid and rounded corners. The computer feels really sturdy and should hold up to a lot of use. It's not a rugged design, but feels well-built.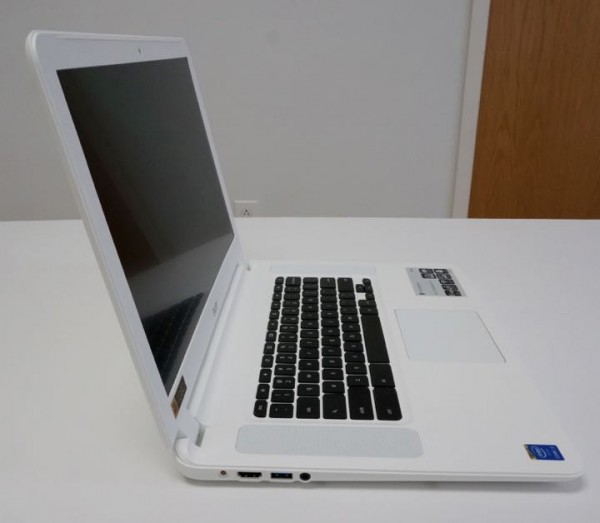 The left edge holds the power port, an HDMI out port, one USB 3.0 port and the headphone/mic combo port.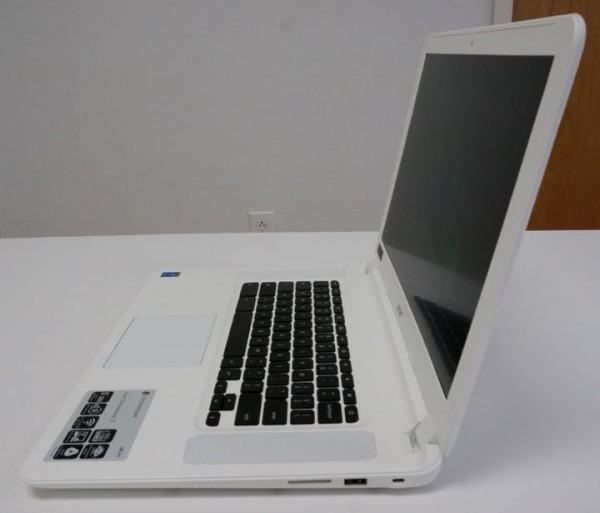 Along the right edge we see the Kensington lock, a USB 2.0 port and a full-size SD card slot.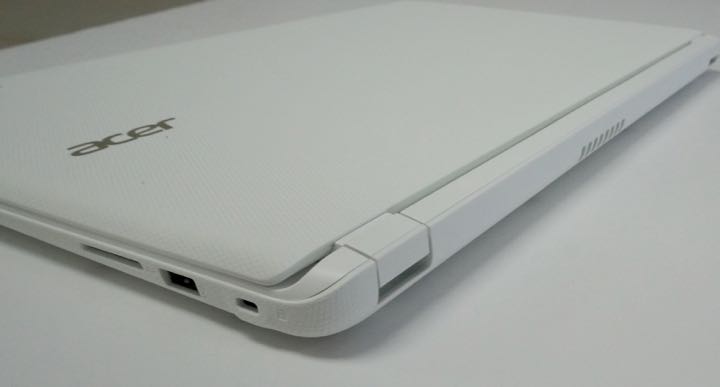 The back sports the vent to help cool the Intel Core i3 processor. We also see the hinges. They're stiff; it's impossible to open the lid with one hand.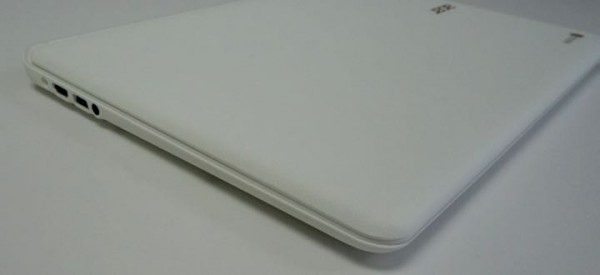 On the front edge we see two LED indicators for power and charging.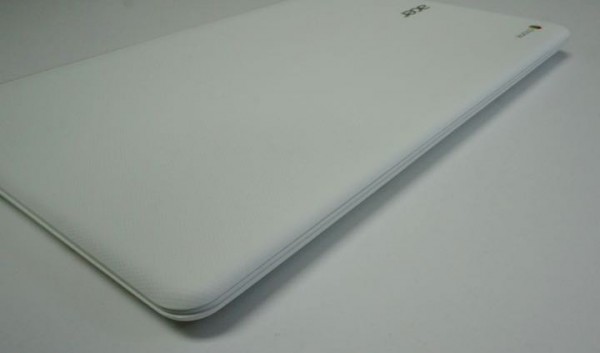 The larger screen size means a bigger system, which results in a five-pound Chromebook. That's extremely heavy when compared to most notebooks running Windows or ChromeOS.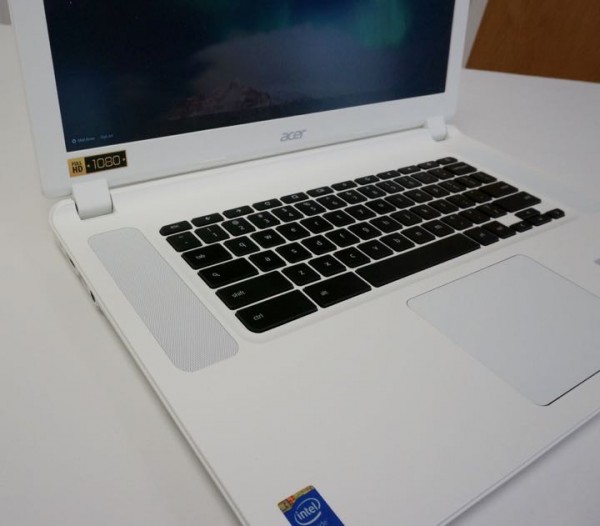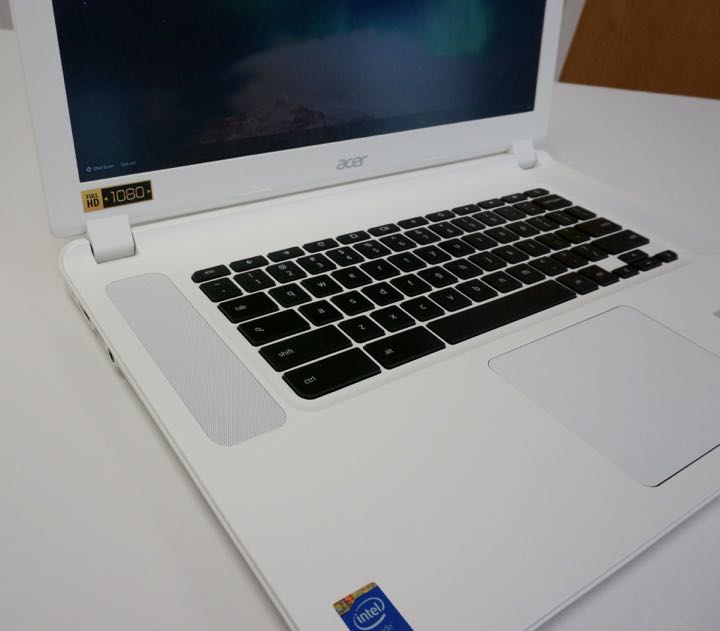 Acer put two decent sounding speakers on the deck of the system, to the left and right of the keyboard. We get better sound than most Chromebooks, but that's a low standard, since almost every Chromebook we've tested includes weak speakers.
Acer Chromebook 15 Keyboard and Trackpad
At first the Acer Chromebook 15 keyboard seemed a little springy for my liking. However, I got used to it quickly and like this keyboard a lot. It's spacious and comfortable to use accurately.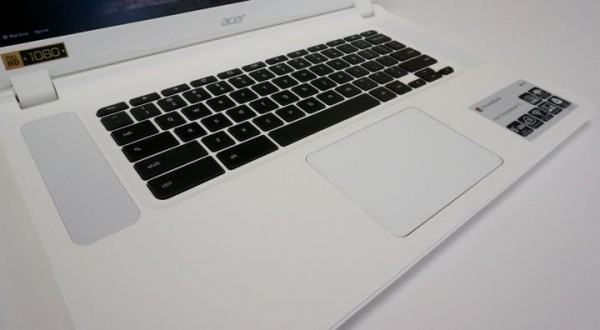 The large trackpad beats most computers available today and even competes with Apple's trackpads for accuracy, size and ease of use. It's plastic so it doesn't compare to the MacBook trackpad in terms of quality of materials, though.
Chromebooks come with a useful set of shortcut keys instead of the traditional F-keys found on most Windows keyboards. That's one of the great things about a Chromebook. You don't need to use an Fn key to make use of all the features in the top row of keys.
There's no backlight, which makes it hard to type in a dark room. A lot of low-price computers leave that feature out.
Acer Chromebook 15 Display and Graphics
The display is big and sports a high-resolution for a low-cost system at 1920×1080. However, it also looks a little dim. It's hard to see in medium to bright lighting, even indoors. I had to pump up the brightness level to about 80% to use it in most settings. Outside it's nearly impossible to see.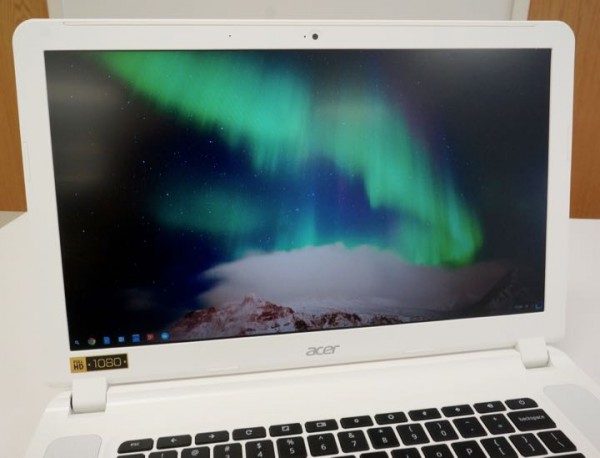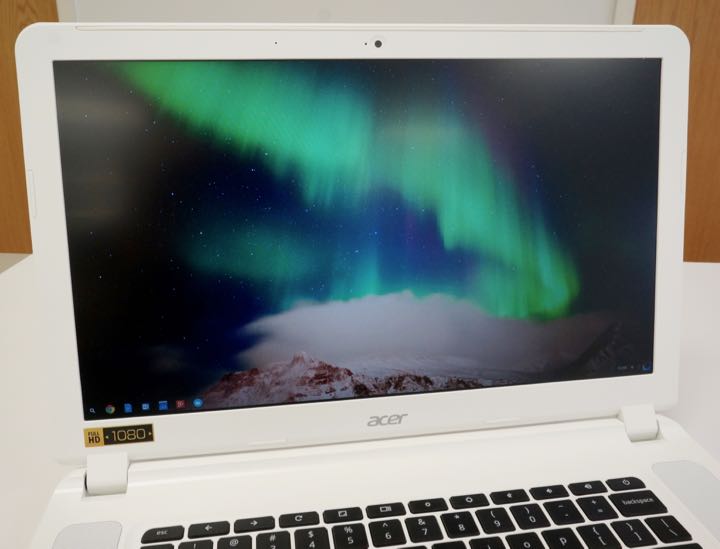 Colors look acceptable and video displayed adequately. This is a business and educational tool, not an entertainment system.
Acer Chromebook 15 Performance
An Intel Core i3 processor with 4GB of RAM and a 32GB SSD makes this a smoking fast system, for a Chromebook. If this was a Mac or PC I'd have to write about how it's a low-end system with meager specs, but as a Chromebook, it's one of the more powerful systems available. The price reflects that at $450.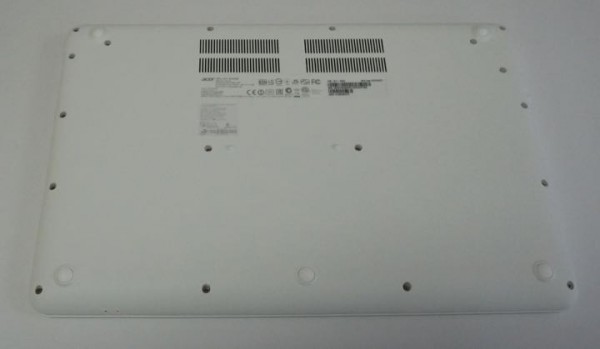 Do people need all of this power in a Chromebook? Not most of the time. However, people who run a lot of apps with a ton of visually intense web pages will enjoy the high ceiling they get with this much processing power.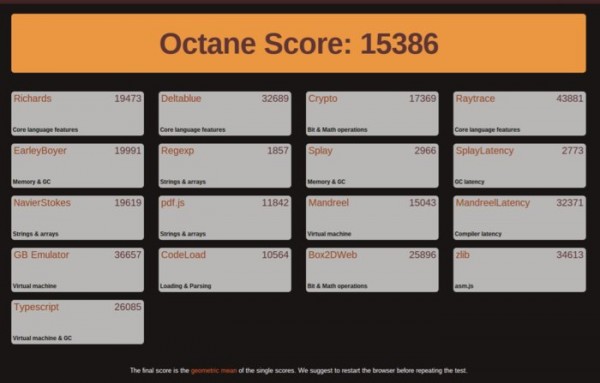 Google's Octane Benchmark shows the power of a Chromebook as well as any other benchmark since it runs inside a browser. A score of 15386 using a weak Wi-Fi connect shows the power of the system. Most Chromebooks average between 8,000 and 10,000 for a fast system. The fastest I've seen before was an Intel Core i3 system from Lenovo. It maxed at around 12,000. Zipso.net shows a list of the most popular Chromebooks and lists the Acer Chromebook 15 as faster than every other speedy Chromebook with a few exceptions: the Acer Chromebook C740 with the same Intel Core i3 and the Chromebook Pixel running an Intel Core i5.
The Acer doesn't just do well on benchmarks. Open a ton of tabs and web apps and it still snaps quickly when switching between them. It boots and restarts in seconds. I couldn't make it slow down a bit.
Charge up the Acer Chromebook 15 to 100% and then use it all day, thanks to a great battery. In spite of the more powerful processor and running the screen brighter than we need to with most computers, we still saw 6-8 hours of battery life with it hitting the 7 hour mark consistently.
The Bottom Line
People who love ChromeOS, but don't want to pay over $1,200 for the Pixel, should look at the Acer Chromebook 15 with the Intel Core i3 processor. If you like the idea of a large system, but don't want to pay over $400, then take a look at the cheaper version with an Intel Celeron 3205U Broadwell processor, the next generation after the Haswell in the popular HP Chromebook 14 and Acer C720 Chromebook.
We now have three categories of Chromebooks.
Ultra-portable: 12-inches and smaller
Mid-range: 12-13 inch systems
Large: 14-15 inch machines
Before the Acer Chromebook 14, the HP Chromebook 14 was the only real contender in the large category. We now have a new king of the heavy-weight class in the Acer Chromebook 15 with an Intel Core i3 processor. Acer supplied this review unit, but I liked the machine so much I bought one to keep.
Gallery
This slideshow requires JavaScript.
Specs
| | |
| --- | --- |
| OS | ChromeOS |
| Display (size/res) | 15.6-inches, 1920 x 1080 IPS Display |
| CPU | Intel Core i3-5oo5U processor 2GHz dual-core |
| RAM | 4GB DDR3L SDRAM |
| Graphics | Intel HD 5500 Graphics |
| Storage | 32GB SSD |
| Optical Drive | None |
| Wireless | Wi-Fi 802.11a/b/g/n/ac; Bluetooth |
| Ports | 1 USB 3.0, 1 USB 2.0, 1 HDMI, headphone/mic, Kensington lock |
| Input | Trackpad, Full-size Keyboard |
| Battery | 4-cell 3220mAh battery up to 9 hours |
| Size | 15.1 x 9.6 x .95 (front) and 1 (back) |
| Weight | 4.85 pounds |
Advertisement