We're going to see a lot of ultrabooks this Fall and Winter, each touting how thin and light and snazzy they are. And while that's plenty impressive in itself, there is a danger of consumers reeling from too much choice and not enough differentiation. One way Acer intends to stand out is by offering lots of storage space. The Acer Aspire S3 I saw yesterday was just 0.5 inches thick but included a traditional hard drive, not an SSD. There will be an SSD option; but, instead of the 128GB that's becoming standard, customers can have 240GB.
Acer claims they have the first ultrabook with a traditional hard drive option, which should make a nice difference in pricing. But even the hard drive models will have an SSD inside where the operating system resides. Users won't be able to write to that, but the notebook and OS will. Due to this addition, the S3 will remain speedy even if you opt for the hard drive. The manufacturer claims the notebook will wake from sleep in 1.5 seconds and connect to the Internet in 2.5 seconds, getting to to your precious LOLCats with little delay.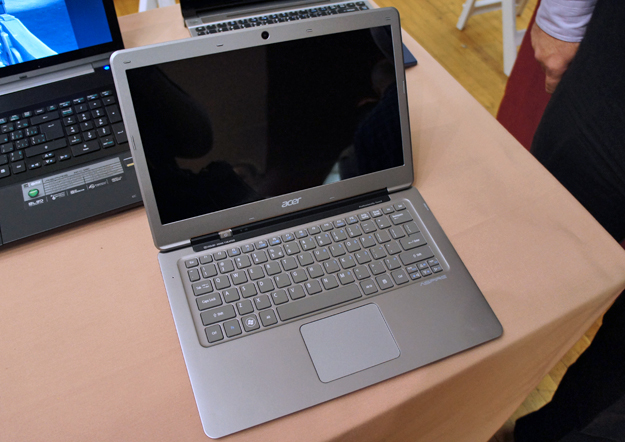 Like other ultrabooks, the S3's thin profile tapers down from back to front. Here almost all of the ports are on the back, with the headphone jack on the left and the SD/MMC slot on the right. Unlike the Toshiba Portege Z830, there's no USB 3.0 here. Just two USB 2.0 ports and an HDMI out.
Inside, the Aspire S3 will run on second generation Core i CPUs from Intel — i3, i5, and i7 will be on offer. Customers will also have a choice between a 320GB or 500GB hard drive as well as the SSD option I mentioned above. With the SSD, the S3 is rated to last for 7 hours. It'll probably get less with the hard drives.
The 13.3-inch notebook weighs less than 3 pounds, but not less than my netbook. I dig the aluminum/magnesium alloy chassis, but I prefer black to metal colors, so Samsung's Series 9 still gets my vote for best looking ultrabook. Still, the S3 is pretty sweet looking and it has nice lines.
Under the lid I'm glad to see Acer's Fine Tip keyboard. The touchpad is buttonless — I like the aesthetic, but hope the drivers are good. Clickpads are tricky beasts and can ruin otherwise good laptops.
Acer will announce U.S. pricing next month. The S3 will launch in Europe sooner than that and cost between 700 and 1199 euros ($969 – $1660). Hopefully they'll be able to get the cost under $900 for the American market.
Advertisement