The Chromebook often get a bad reputation because misinformed people say, "It's just a browser" or "you have to always be connected to the Internet." Those people are wrong. The Chromebook does a lot more than people realize. You don't have to always connect to the Internet to work on a Chromebook. Anything you can do online with a Windows or Mac computer will work on a Chromebook. A powerful Chromebook runs faster than computers with comparable hardware and they also cost a lot less than most Windows computers. Even the most expensive Chromebook, Google's Chromebook Pixel, will cost less than the average MacBook.
1. Run Apps Offline on a Chromebook
Head over to the Chrome Web Store and you'll find a long list of Offline Apps. These apps will run even when the computer's not connected to the Internet. Here's a list of the fifteen most useful apps with a brief description and link. All of them run offline and then sync up with the Internet the next time it's available.
2. Use ChromeOS Launcher as a Calculator
Google updated the ChromeOS Launcher which now has some neat tricks built into it. Click on the search icon in the lower left corner of the ChromeOS screen.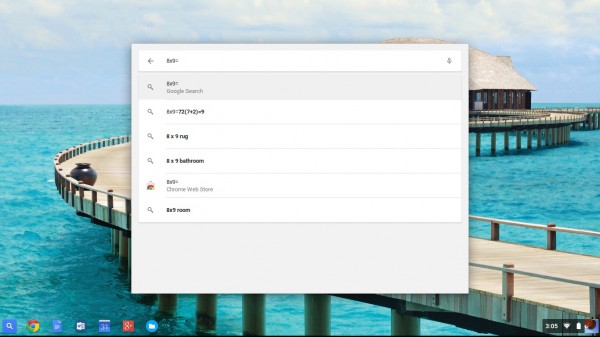 If you need to get a quick calculation, launch the new ChromeOS launcher. Type in the problem and add an equal sign at the end and it will offer the solution plus other cool calculations. For example, see the above screenshot. It not only tells me that 8×9=72 but it also adds that 7+2=9.
Don't tell your kids because they'll start letting Google do their math homework as it works with simple and complex equations.
This also works with calculating some unit conversions, like inches to centimeters or ounces to grams. Type the number and unit identifier. For example "8 ounces in grams." Just remember: put the resulting unit identifier last.
3. Make Skype Calls
Check out web.skype.com and see that Chromebook users can now log into their Skype account and chat over the Internet using the Skype service. They can also use the web interface to make video or audio calls.
It's not perfect and sometimes seems to freeze doing nothing, but it's also a beta. As it improves, expect it to become more stable and useful.
4. Get Google Cards form ChromeOS Launcher
At the bottom of the ChromeOS Launcher there's a black box with an arrow pointing right. This shows Google Now Cards with a suggested search based on your search history. Scroll down on smaller screened devices and the cards will expand. Click the reload button to refresh the content and update it. Click on the More button, if it shows up, to see more Google Now Cards.
5. Launch Apps by Typing
Like Windows and OS X, Chromebook users can launch apps just by clicking on the Launcher icon (the search button in the lower left) and type the app's name. Launch the WeVideo video editor app or Pixlr Editor photo editing app by typing the name.
6. Use OK Google to Search for Information
Google added its powerful voice activation to the launcher and Chrome browser. To turn it on, open Settings. Either Open Chrome and click on the Settings icon in the upper right corner and choose Settings from the drop down list or click in the bottom right corner near the time. Find the Search section of settings and click on Enable "Ok Google" to start a voice search. Click on the Learn more link to learn how it works.
Here's a list of search examples that Google offers in the Learn more link above:
Find a movie: "What movies are playing tonight?" or "Where's Hunger Games playing?"

Find nearby places: "Where's the closest coffee shop?"

Find the time: "What time is it in London?"

Answer trivia questions: "Where was Albert Einstein born?" or "How old is Beyonce?"

Calculate the tip: "What's the tip for 42 dollars?"

Translate words or phrases: "How do you say cucumber in Spanish?"

Define a word: "What does gluttony mean?"

Convert between units: "What's 16 ounces in pounds?"

Solve a math problem: "What's the square root of 2209?"

Book a table: "Book a table for 2 at Cascal on Wednesday night."
It seems that it won't launch apps like it does on Android, but you can do a lot of cool things.
7. Learn Powerful Keyboard Shortcuts
Speed up your work by learning these powerful keyboard shortcuts in ChromeOS.
Snap windows to the left or right side of the screen – ALT+[ for left side and ALT+] for right side. Hit it again to return the window to its earlier shape and place.
Add WWW and .com to web addresses – click in the Google Chrome Omnibar and type the name of the site, like Notebooks.com and then hit CTR+ENTER and it adds www before Notebooks and .com after.
Past unformatted text anywhere – if you've copied some formatted text in a Google Doc or web page and want to paste it somewhere else without the bold or italics or any other formatting, use CTRL+ALT+V.
Select text a word at a time – lets say you only want to select part of a sentence. Place the cursor either before or after the text and the use the ALT+SHIFT+ARROW to select either back or forward a word at a time.
Select text a line at a time – select a whole line by placing the cursor at the beginning or end of a line and use CTR+SHIFT+ARROW using the left arrow to select towards the beginning of the line and right arrow to select to the end of the line.
Jump a word at a time – using the above method, don't press the shift key if you just want to jump to the next word or previous word (ALT+ARROW).
Jump to beginning or end of a line – to skip to the beginning of a line or the end of the line use the CTRL+ARROW with the right arrow moving the end and the left arrow moving to the beginning of the current line.
Open Notification Area – to open the notification area (see screenshot below) use CTRL+ALT+N to see recent notifications. This does nothing if there's no notification active in the area.
Force a reboot – use the power button plus the refresh button and this will restart the computer, even if it's frozen. The power button sits above the backspace key on the top right and the refresh button sits above the number 4 key.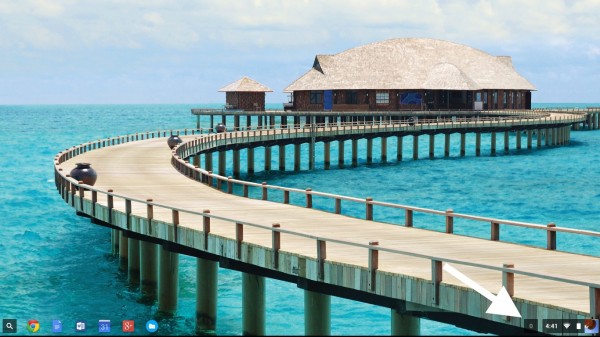 8. Edit Photos and Video
We already mentioned Polarr Photo Editor 2 above under the offline apps, but a number of other tools will edit photos on a Chromebook. Please see our guide for How to Edit Photos on a Chromebook for more details.
In addition to a guide for editing photos on a Chromebook, we also published How to Edit Video on a Chromebook. It's not as easy as editing photos. To get a nice video editing tool, video editors will need to pay for a service like WeVideo.
9. Run Select Android Apps
A year ago Google announced they'd make Android apps available for use on ChromeOS. A year later and the hope of running most Android apps on ChromeOS seems like a pipe dream, however Chromebook users can install some. Here are a few of the most popular.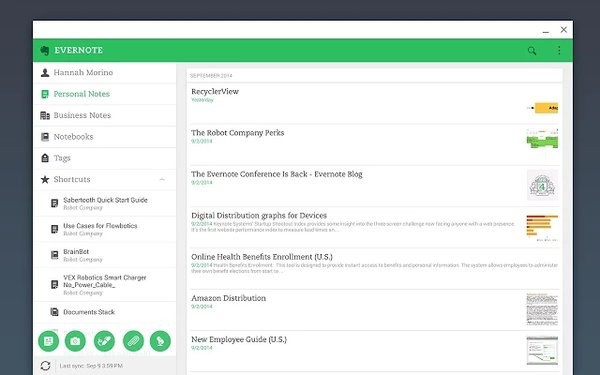 Let's hope we see more Android apps ported to ChromeOS after Google's announcement that they'll make it easier to port Android apps over to ChromeOS using the App Runtime for Chrome.
10. Draw a Masterpiece on a Touchscreen Chromebook
A lot of Chromebooks today come with a touchscreen like the Lenovo N20p Chromebook we reviewed recently that comes with a touchscreen that folds into tablet mode. Add to that the new ASUS Chromebook Flip coming soon for $250 with a similar touchscreen convertible design.
A great drawing app like Sketchpad 3.5 turns one of these touchscreen Chromebooks into a powerful art took.
Advertisement