We unbox the brand new Toshiba Chromebook, a 13-inch Chromebook with a model number of CB35-A3120. It offers a 13-inch screen with a decent 1366 x 768 resolution running the latest Intel Haswell processor. This machine promises an excellent all-day 9 hours of battery life on a single charge.
Since it's the first 13-inch Chromebook and only became available to buy a few days ago, we thought we'd give it an unboxing since it won't show up in local electronic stores for a while.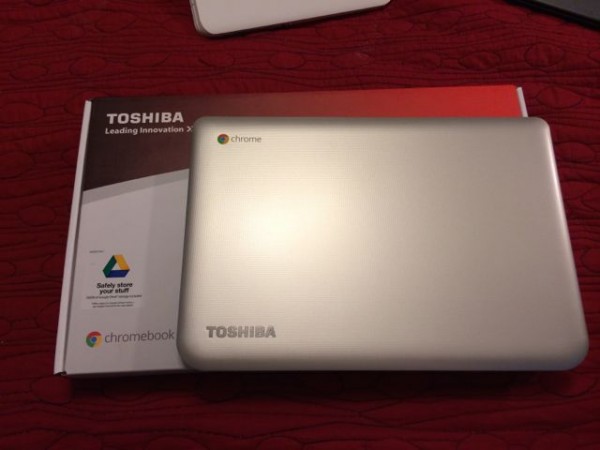 Here's the unboxing video in which we compare it to the HP Chromebook 14 and show off the various ports and connections. We also give the keyboard, trackpad and screen their due analysis.
The machine looks like a nice entry into the sub-$300 Chromebook market. It competes with the HP Chromebook 14, which costs the same for the 2GB model, more than it does the smaller Samsung Chromebook, Acer C720 or C720P or the HP Chromebook 11. The screen size, while smaller than the HP, compares nicely.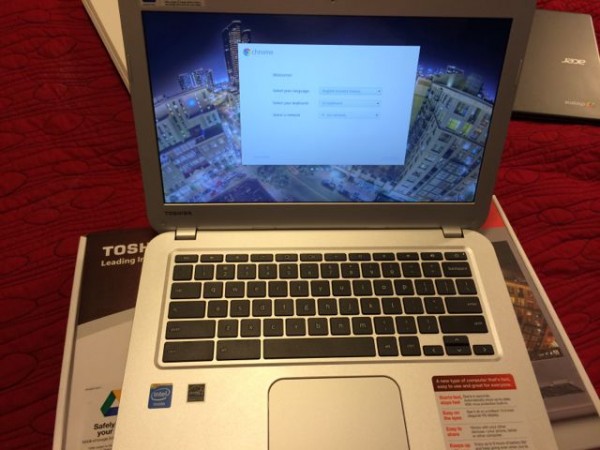 The Toshiba Chromebook costs $300 direct from Toshiba, but we found it for $20 less at Amazon. Here's a list of important specs.
Screen resolution of 1366×768 on a 13.3-inch screen
Intel Celeron 2955U processor running at 1.4GHz
2GB of DDR3 RAM
Intel HD Graphics
802.11 b/g/n Wi-Fi
Up to 9 hours of battery life
3.3lbs and 8.9 x 12.9 x. 8 inches
In our first look, we like the machine. It comes with a plastic faux-aluminum body that feels textured on the outside and it feels like brushed aluminum on the bezel and the area around the keyboard and trackpad.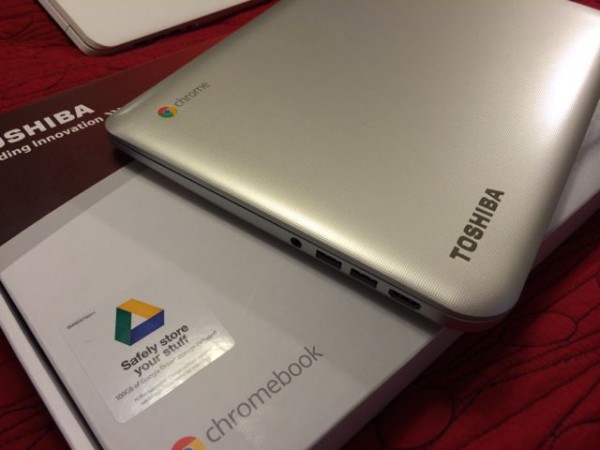 The keyboard and trackpad look the same as the larger HP Chromebook 14, which means typing and pointing will feel good.
The screen seems bright enough and offers decent wide-angle viewing. We still want a higher resolution model without needing to pay over $1,000 for the Google Chromebook Pixel. None exists so far.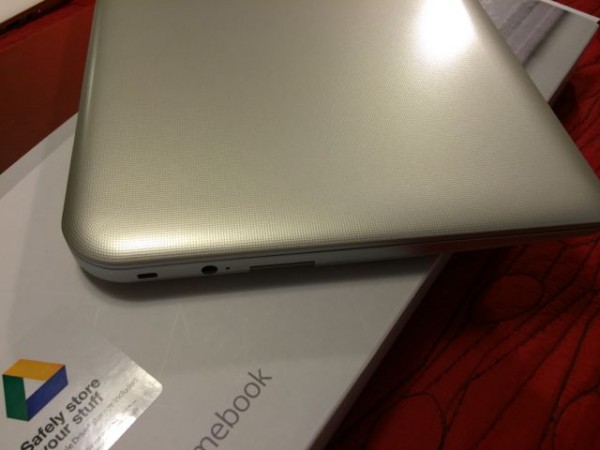 The machine feels like it will hold up to the rigors of ordinary office and mobile use. That means it's not rugged but also not flimsy.
Advertisement